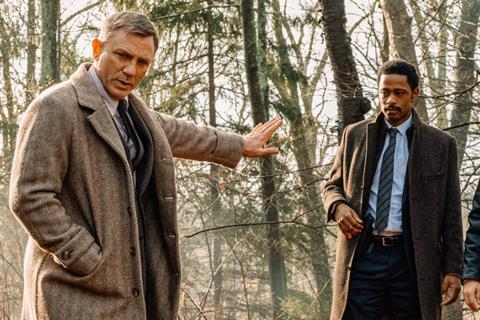 In an unprecedented deal that underscores the unrivalled buying power of streamers, Netflix is understood to have paid below mid-nine figures for the next two Knives Out follow-ups centring on the detective Benoit Blanc played by Daniel Craig.
Writer-director Rian Johnson and his T-Street producing partner Ram Bergman are lining up the first follow-up with Craig set to star in what they see as a whodunnit franchise and have set their sights on a summer shoot in Greece.
Reports put the deal in the $450m range, however it is understood the number is below that.
Knives Out opened in 2019 via Lionsgate and grossed $311m ($146m internationally and $165m in North America) worldwide – a huge profit for a film that reportedly cost $40m.
MRC produced the whodunnit and cut the distribution deal with Lionsgate. Johnson and Bergman held on to the property rights and CAA negotiated the follow-ups deal with Netflix on behalf of the filmmakers.
Speaking to Screen several weeks ago in an article that ran today (March 31), Bergman said at the time he and Johnson were focused first and foremost on the next episode.
"We're concentrating on the continuation of the Knives Out movie," said Bergman. "Rian's been developing the script. It's our goal to shoot that first, but who knows with Covid. I've been getting ready for that movie and we have a lot of other projects in film and TV at our new company."