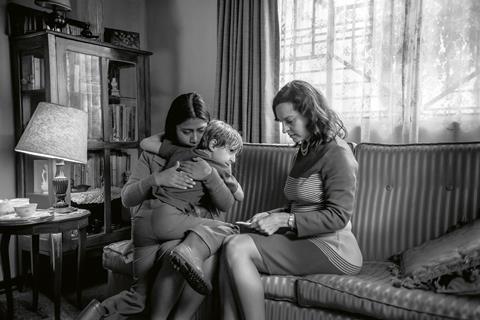 Netflix confirmed on Friday (7) that Alfonso Cuarón's ROMA, produced by Esperanto Filmoj and Participant Media, will be released in more than 100 theatres in the US and more than 500 theatres internationally in more than 40 countries around the film's December 14 launch on the platform.
In Cuarón's native Mexico, the Spanish-language black and white drama has been playing in Mexico City and numerous sites across the country, where Netflix sources said strong demand means it will be playing in nearly 100 theatres throughout the country this weekend.
Theatrical screenings began in the US and Mexico on November 21 and since then the awards contender has been playing in New York, Los Angeles, Mexico City, London, and Toronto, among others.
ROMA continues its expansion this weekend and will screen in nearly 50 US and more than 200 international theatres. The full quota of international engagements will eventually cover Canada, Australia, Spain, Germany, Italy, Brazil, Argentina, South Korea, Portugal, Taiwan, Peru, and Czech Republic, among others.
ROMA was nominated for three Golden Globes this week including best foreign film and was recently named best picture of the year by the New York Film Critics Circle, after it launched at Venice Film Festival, where it won the Golden Lion.
"We love this film and our goal is to bring this cinematic experience to audiences everywhere, and our theatrical plan, combined with the reach of our service, has made ROMA an event film and cultural moment," said Scott Stuber, head of Netflix's film group. "ROMA has played in festivals all over the world and we're expanding our theatrical engagements, not only in major markets, but also in places like Honduras, South Africa, and Iceland. When the film premieres on December 14, we will be in 600 theaters worldwide."
"Alfonso and everyone at Participant believe strongly in the theatrical experience," said David Linde, CEO of Participant Media. "Choice and increased audience diversity around the world are also very important, and this incredible combination of the two worlds is something very exciting."