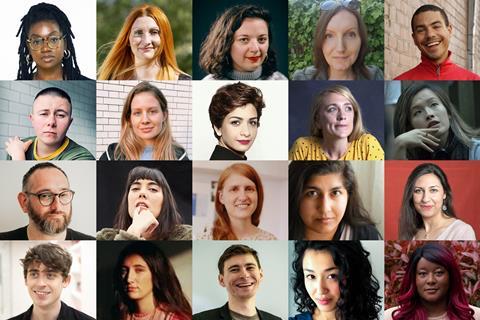 Anne Mensah, the vice president of original series at Netflix, and See-Saw's head of development, film and limited series, Katherine Bridle are among the senior executives taking part in the 2021 BFI Network x Bafta Crew mentoring programme.
This is the third edition of the mentoring scheme, which aims to provide support to 20 filmmakers from across the UK who are from regions and communities underrepresented in the screen industries and are currently working towards debut projects in film and television.
As well as being paired a mentor, the up-and-coming filmmakers are given career and wellbeing coaching and accreditation to key UK festivals throughout the year.
Also acting as mentors are Laurie Nunn, the creator of Netflix series Sex Education; Babyteeth director Shannon Murphy; Radioactive director Marjane Satrapi; and writer Charlie Covell, a 2015 Screen Star of Tomorrow, who penned Channel 4/Netflix series The End Of The F***ing World.
BFI Network x Bafta Crew is a year-round talent development programme which aims to support the next generation of film and television talent. The BFI Network is made possible with National Lottery funding.
The mentees and mentors for 2021 are:
Abíólá Rufai-Awójídé (producer) – Rienkje Attoh (producer, Noughts + Crosses)
Alex Clarke (writer) – Lisa McGee (writer, Derry Girls)
Alia Ghafar (writer-director) – Laurie Nunn (creator, Sex Education)
Amy Coop (writer-director) – Francesca Gardiner (writer, Killing Eve, His Dark Materials)
Ashley Francis-Roy – Jonny Taylor (original documentaries commissioning, Netflix)
Charlie Tidmas (writer-director) – Gavin Humphries (producer, The Curse, Pin Cushion)
Chloë Wicks (writer-director) – Shannon Murphy (director, Babyteeth, Killing Eve)
Fateme Ahmadi (writer-director) – Marjane Satrapi (writer-director, Persepolis, Radioactive)
Grace Harper (director) – Joanna Natasegara (producer, Virunga, The White Helmets)
Haolu Wang (writer-director) – Babak Anvari (writer-director, Under the Shadow, Wounds)
Joe Morris (writer-director) – Levan Akin (writer-director, And Then We Danced)
Kyla Harris (writer-director) – Mae Martin (writer,actor, Feel Good)
Maria Caruana Galizia (producer) – Ciara Barry and Rosie Crerar (producers, Run)
Priya K. Dosanjh (writer-producer) – Charlie Covell (writer, The End of the F***ing World)
Razan Madhoon (writer-director) – Dawn Shadforth (director, Adult Material)
Ronan Corrigan (writer-director) – Chelsea Morgan-Hoffmann (development producer, Element Pictures)
Stroma Cairns (writer-director) – Aneil Karia (writer-director, Pure, Top Boy, Surge)
Thomas McDonald (producer) – Oliver Kassman (producer, Saint Maud)
Xenia Glen (producer, writer-director) – Katherine Bridle (head of development, film and limited series, See-Saw)
Yolanda Mercy (writer) – Anne Mensah (vice president original series, Netflix)