Beneficiaries include team behind children's fantasy film Admiral.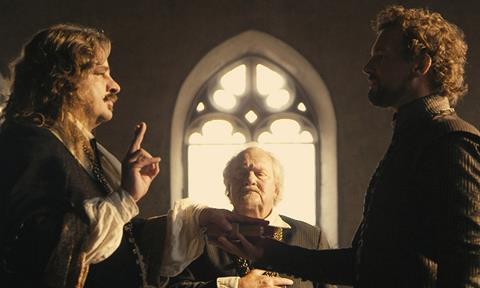 Scroll down for full list of projects
The Netherlands Film Production Incentive scheme has backed 21 film projects to the tune of €6.1m in its latest funding round, including 15 feature films, five documentaries and one animated feature.
The average investment was €291,185, with the smallest being €40,000 and the largest sum, €900,000, going to the team behind 2015 fantasy film Admiral [pictured] for their new project Redbad 754 A.D.
Currently in pre-production, Redbad 754 A.D. will be directed by Rob Reiné (who is attached to direct episdoes of Marvel's upcoming TV series Inhumans) from a script by Alex van Galen. Dutch producers will be Farmhouse TV en Film, with Belgian outfit Bulletproof Cupid co-producing.
The Conductor, directed and written by Maria Peters and produced by Shooting Star Filmcompany, received the second largest grant with €898,111. Peters' previous credits include romantic drama Sonny Boy and family film Mike Says Goodbye!.
Projects also receiving grants include Stupid Young Hearts from Finnish director Selma Vilhunen, who was Oscar-nominated in 2012 for short Do I have to Take Care of Everything?. Her latest film has Dutch outfit Windmill Film onboard as a co-producer and received a grant of €76,987.
Additionally, two-time Cannes Best Short Palme d'Or nominee Esther Rots received €196,774 for her second feature Mette, which is being produced by Column Film Nederland.
The sole animated feature backed in the funding round is Salvador Simó Busom's Bunuel In The Labyrinth Of The Turtles, which received €110,000. Latido Films has boarded sales on the project.
The Dutch incentive scheme offers a 30% cash rebate for qualifying Dutch productions and the Fund grants investments four times each year.
According to the Fund, the latest round of investments are expected to generate more than €27m in production expenditure within the Netherlands.
List of backed projects:
Battle (feature film) has been granted a financial contribution of €250,363
Director: Katarina Launing (NO)
Script: Maja Lunde (NO)
Dutch co-producer: Phanta Basta!
Lead producer: Friland AS (NO)
Other co-producer: Adomeit Film (DK)
Dutch expenditure: e.g. art director, costume designer
The Beast in the Jungle (feature film) has been granted a financial contribution of €148,298
Director: Clara van Gool
Script: Clara van Gool
Dutch producer: KeyFilm
Co-producer: Amour Fou Luxembourg (LU)
Behind the Blood (documentary) has been granted a financial contribution of €42,750
Director: Loretta van der Horst
Script: Loretta van der Horst
Dutch producer: Conijn Film
Co-producer: Fine Point Films (IE)
Bloody Marie (feature film) has been granted a financial contribution of €411,233
Director: Guido van Driel
Script: Guido van Driel
Dutch producer: Family Affair Films
Co-producer: Savage Film (BE)
Bo (feature film) has been granted a financial contribution of €288,897
Director: Johan Timmers
Script: Barbara Jurgens
Dutch producer: The Film Kitchen
Co-producer: A Private View (BE)
Bon Bini Holland 2 (feature film) has been granted a financial contribution of €475,794
Director: Kees van Nieuwkerk
Script: Martijn Hillenius and Luuk van Bemmelen
Dutch producer: Kaap Holland Film
Buñuel in the Labyrinth of the Turtles (animated feature film) has been granted a financial contribution of €110,000
Director: Manolo Galiana (ES)
Script: Eligio Montero (ES)
Dutch producer: Submarine
Lead producer: Sygnatia (ES)
Co-producer: The Glow (ES)
Dutch expenditure: e.g. head of animation, head of compositing
The Conductor (feature film) has been granted a financial contribution of € 898,111
Director: Maria Peters
Script: Maria Peters
Dutch producer: Shooting Star Filmcompany
Eden (feature film) has been granted a financial contribution of € 122,171
Director: Agnes Kocsis (HU)
Script: Agnes Kocsis (HU)
Dutch co-producer: Isabella Films
Lead producer: Mythberg Films (HU)
Other co-producers: VENFILM (NL), Libra Film (RO), Recalcati Multimedia (IT)
Dutch expenditure: e.g. sound recordist on set, sound designer, re recording mixer, costume designer, postproduction (image & sound)
The Fountains (documentary) has been granted a financial contribution of € 74,718
Director: Roel van Dalen
Script: Roel van Dalen
Dutch producer: Pieter van Huystee Film & TV
Speech (feature film) has been granted a financial contribution of € 456,700
Director: Barbara Bredero
Script: Tijs van Marle
Dutch producer: PV Pictures
Mette (feature film) has been granted a financial contribution of € 196,774
Director: Esther Rots
Script: Esther Rots
Dutch producer: Column Film Nederland
Co-producers: Rots Filmwerk (NL), Serendipity Films (BE)
Mrs. F. (documentary) has been granted a financial contribution of € 82,344
Director: Chris van der Vorm
Script: Tamara Vuurmans
Dutch producer: Volya Films
Orange Fever (feature film) has been granted a financial contribution of € 635,126
Director: Pim van Hoeve
Script: Pieter Bart Korthuis and Maarten Lebens
Dutch producer: Topkapi Films
Rafaël (feature film) has been granted a financial contribution of € 238,258
Director: Ben Sombogaart
Script: Tijs van Marle
Dutch producer: Rinkel Film
Co-producers: Menuet (BE), Verdeoro (IT), Nukleus Film (HR)
Redbad 754 A.D. (feature film) has been granted a financial contribution of € 900,000
Director: Roel Reiné
Script: Alex van Galen
Dutch producer: Farmhouse TV en Film
Co-producer: Bulletproof Cupid (BE)
The River (feature film) has been granted a financial contribution of € 222,533
Director: Max Jacoby (LU)
Script: Max Jacoby (LU)
Dutch co-producer: New Ams Filmcompany
Lead producer: Samsa Film (LU)
Dutch expenditure: e.g. director of photography, editor, production designer, visual effects supervisor, colorist, post production (image)
Rosie & Moussa (feature film) has been granted a financial contribution of € 97,275
Director: Dorothée van den Berghe (BE)
Script: Michael de Cock (BE)
Dutch co-producer: The Film Kitchen
Lead producer: Caviar (BE)
Dutch expenditure: e.g. sound recordist on set, sound designer, re recording mixer, colorist, composer, costume designer, post production (sound)
Silence of the Tides (documentary) has been granted a financial contribution of € 346,559
Director: Pieter-Rim de Kroon
Script: Pieter-Rim de Kroon
Dutch producer: Windmill Film
Stupid Young Hearts (feature film) has been granted a financial contribution of € 76,987
Director: Selma Vilhunen (FI)
Script: Kirsikka Saari (FI)
Dutch co-producer: Windmill Film
Lead producer: Tuffi Films (FI)
Other co-producer: Hobab (SE)
Dutch expenditure: e.g. editor, sound designer, re recording mixer, visual effects supervisor, colorist, composer, post production (image & sound)
Ubiquity (documentary) has been granted a financial contribution of € 40,000
Director: Bregtje van der Haak
Script: Bregtje van der Haak
Dutch producer: BALDR Film
Co-producer: Clin d'Oeil Films (BE)