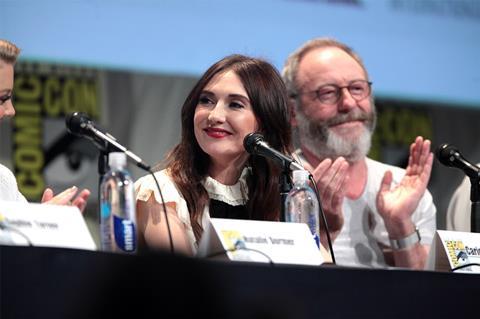 New Netherlands Film Festival director Hein Barnhoorn has been talking up the industry side of the event (running 20-29 September) and has agreed that the Dutch may be on the verge of a new "golden age" as production ramps up.
With its cash rebate now raised from 30 to 35% and extended to TV drama as well as feature film, the Netherlands looks to set to become far more active as an international coproduction partner. This is enhancing the significance of the festival's industry event industry event The Holland Film Meeting (24-27 Sept), now in its 30th edition and again holding its coproduction platform.
Reflecting the event's increasing status, there will be plenty of high profile sales agents and distributors in Utrecht this week. Tanja Meissner (Memento Films International), Vanessa Saal (Protagonist) and Jason Ishikawa (Cinetic) are all due to take part in Tuesday's panel on The Changing Nature and Role of Sales Companies, moderated by London-based producer Uzma Hasan of Little House Productions.
Today (25 September), there will also be an ACE Producers Think Tank discussion on "How can a "European brand" of cinema be cultivated to survive and thrive in current markets." Producers' network ACE is now based in Amsterdam.
Big projects
Some significant projects will be presented at the platform. The biggest film in selection is Lindy Heymann's feature Rum Doxy Diver, which already has €2 million of its €5.692.000 projected budget in place.
Produced by Roy Boulter and Sol Papadopoulos through their Liverpool-based outfit Hurricane Films, the film is looking to shoot in late 2018. An adaptation of Sara Stockbridge's novel about Grace Hamme, "a turn of the 19th Century woman who is feisty and independent, quick witted and seductive" in the words of director Heymann. She describes the project as "a roller coaster ride through a world inhabited by larger than life villains and vagabonds" that will have "the rock 'n roll attitude of Robert Downey's Sherlock Holmes and the tongue in cheek spirit of Pirates of the Caribbean."
Producer Boulter, who also took Terence Davies feature A Quiet Passion to the Holland Film Meeting, is looking for Dutch partners. "It's a really good co-production market," he said of HFM, adding that the "more favourable" cash rebate in the Netherlands is a strong attraction.
The event has attracted new projects from Finland, UK, Denmark, Iceland, France, Serbia, Romania, Belgium, Turkey and Spain. The eleven Platform titles sit alongside seven Dutch and international projects in development, and three Works-in-Progress, already selected for the BoostNL programme, organised in collaboration with IFFR's CineMart. Marion Hansel's Upstream and Tenderness, Paula van der Oest's Tonio, Michael R.Rosskam's Bullhead, Eisenstein in Guanajuato by Peter Greenaway and Davies' A Quiet Passion are among the features that have passed through the coproduction market in recent years.
High-end drama
Holland Film Meeting Head Vanja Kaludjercic has revealed that there is now increasing interest from producers in coproducing with the Dutch on high-end TV drama. "We do recognise more and more demand for it. One of the major points to discuss for coming issues of the Holland Film Meeting is how best to cater for this demand."
Barnhoorn (who took over the reins earlier this summer) has also revealed plans to increase numbers of visitors to the festival, now underway in Utrecht. Numbers coming to Utrecht stand at around 150,000 but Barnboorn said he wad determined to "raise public awareness of the event" yet further.
'Game Of Thrones' star
Highlights at the festival itself include a visit by leading Dutch star Carice van Houten (Game Of Thrones, Black Book), whose feature Brimstone is a contender for several Golden Calf awards.
"We reached out to Carice to say it is important to show our talent this is all the way you can go," Barnhoorn said of the example that Van Houten's international success has provided. "She is a five or six-time Golden Calf winner and one of our most experienced actresses and so we are very happy to have her here."
There is also considerable local interest in new feature documentary, Gaswinning In Groningen from Selfmade Films, which looks at the spate of earthquakes that have been happening in the north of Holland as a result of gas being extracted from the soil.