Takashi Miike's new film to receive world premiere at the Swiss genre festival.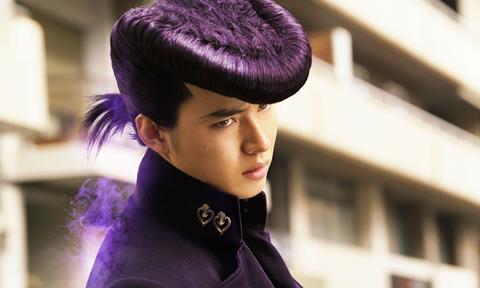 Neuchatel International Fantastic Film Festival (NIFFF) has unveiled the line-up for its 17th edition, set to run June 30-8 July.
The Swiss festival, which spotlights genre and Asian cinema, has 16 titles in this year's international competition, including Takashi Miike's new film JoJo's Bizarre Adventure: Diamond Is Unbreakable (which was announced last month).
The film is based on Hirohiko Araki's Manga and will receive its world premiere at NIFFF. Miike will be the festival's guest of honour this year.
Other European, international and world premieres include Tony Datis' Le Manoir, Chinese/Korean action film Reset, Mathieu Turi's Hostile and Tyler Macintyre's Tragedy Girls.
INTERNATIONAL COMPETITION
A Dark Song, Liam Gavin
Le Manoir, Tony T. Datis
Before We Vanish, Kurosawa Kiyoshi
Mon Ange, Harry Cleven
Bitch, Marianna Palka
Mon Mon Mon Monsters, Giddens Ko
Bushwick, Cary Murnion & Jonathan Milott
Reset, Chang, China/South Korea
Dave Made A Maze, Bill Watterson
Super Dark Times, Kevin Phillips
El Bar, Álex De La Iglesia
The Endless, Justin Benson & Aaron Moorhead
Hostile, Mathieu Turi
Jojo's Bizarre Adventure: Diamond Is Unbreakable, Miike Takashi
The Little Hours, Jeff Baena
Tragedy Girls, Tyler Macintyre
New Cinema From Asia - Asian Competition
Blade Of The Immortal, Miike Takashi
Marlina The Murderer In Four Acts, Mouly Surya
Have A Nice Day, Liu Jian
Pwera Usog, Jason Paul Laxamana
Jailbreak, Jimmy Henderson
Trapped, Vikramaditya Motwane
Kung Fu Yoga, Stanley Tong
Zombiology: Enjoy Yourself Tonight, Alan Lo
Ultra Movies – Midnights Screenings
Better Watch Out, Chris Peckover
Lake Bodom, Taneli Mustonen
Black Hollow Cage, Sadrac González-Perellón
Meatball Machine Kodoku, Nishimura Yoshihiro
Dead Shack, Peter Ricq, Canada
Prevenge, Alice Lowe
Grave (Raw), Julia Ducournau
The Autopsy Of Jane Doe, André Øvredal
It Stains The Sands Red, Colin Minihan
The Mole Song: Hong Kong Capriccio, Miike Takashi
Films Of The Third Kind – Crossover Screenings
Ava, Lea Mysius
Le Serpent Aux Mille Coupures, Eric Valette
Baahubali: The Conclusion, S.S. Rajamouli
Ron Goossens, Low Budget Stuntman, Steffen Haars & Flip Van Der Kuil
Berlin Syndrome, Cate Shortland
Small Town Killers, Ole Bornedal
Colossal, Nacho Vigalondo
Spoor, Agnieszka Holland
Goran, Nevio Marasovic
The Limehouse Golem, Juan Carlos Medina
I Am Not A Witch, Rungano Nyoni
The Merciless, Byun Sung-Hyun