Warsaw-based sales outlet New Europe Film Sales has taken international rights to Norwegian family animation Cattle Hill, which opens in local cinemas on October 19.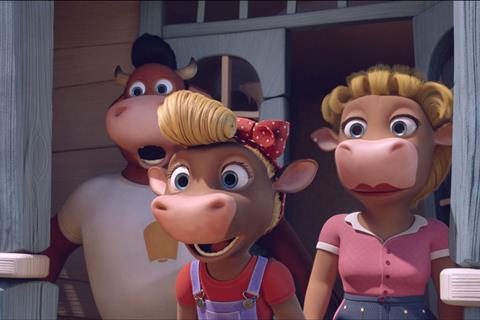 Directed by Lise I. Osvoll, the film is the story of a young cow who lives in the city with her mum and dreams of becoming a pop star. One day she receives a letter from her father whom she has not seen for many years and travels to the countryside to meet him.
Cattle Hill is produced by Scandinavian animation outfit Qvisten Animation, the company behind In The Forest Of Huckybucky, Louis & Luca, Twigson, and Knudsen & Ludvigsen.
The new film is a co-production with Kristiansand Zoo and Amusement Park, in co-operation with The Lipp and the publishing house Vigmostad & Bjørke. Nordisk Film will distribute in the Nordics.
The voice cast is Norwegian on the current version and will be dubbed into English. It also features songs from Norwegian pop stars including Lisa Børud, Emilie Nicolas, ARIF & Unge Ferrari and Odd Nordstoga.
Qvisten and New Europe previously collaborated on short animation Odd Is An Egg by Kristin Ulseth, which won the Best Animation Award at Tribeca in 2017. Cattle Hill is New Europe's company's second animation after 2018 Berlinale Generation premiere Gordon & Paddy. The company's Toronto slate also features The Load, which will screen there in the Discovery strand.