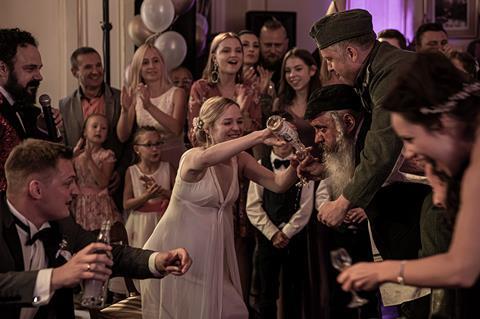 Estonia's Tallinn Black Nights Film Festival has revealed the full 2021 official selection line-up. The 25th anniversary edition of the festival is runnig from November 12-28.
The international competition features seven world premieres, including Augusto Sandino's A Vanishing Fog, Adilkhan Yerzhanov's Herd Immunity, Kristijonas Vildžiūnas's Songs For A Fox, György Pálfi's Perpetuity, Abed Abest's Killing The Eunuch Khan, Jun Robles Lana's Big Night and Aku Louhimies' The Wait.
Scroll down for the full list of titles
There are also nine international premieres including Wojtek Smarzowski's The Wedding Day, which takes a deep dive into Polish society by telling two stories a century apart, addressing issues including LGBTQI+ rights and veganism. It is a follow-up to Smarzowski's 2018 film Kler, which dissected the Polish Catholic church.
Matias Rojas Valencia's A Place Called Dignity is another international premiere. It takes place in Colonia Dignidad, the notorious commune in southern Chile founded in 1961 by former Nazi soldier Paul Schäfer that housed a cult and where many children were sexually abused.
Set to receive its European premiere is Yanagawa, directed by Korean-Chinese director Zhang Lu, who has previously picked up prizes at Cannes, Berlin and Locarno. It tells the story of two Beijing brothers who are brought back together by a shock diagnosis, and head to Japan to seek out a woman from their past. The film received its world premiere at Busan and opened Pingyao International Film Festival.
The Grand Prix award for best film goes up to €20,000 this year, from €10,000 last year. The grant will once again be shared between the director and producer. The audience award is also increasing, going up to €5000 from €2000. Prize for director stands at €5,000, with a €1,000 prize for script, actor, actress and cinematographer.
The full programme will be announced at the start of November. Screenings will be available online as well as onsite in Tallinn from November 17-26.
Black Nights Official Selection 2021
In competition – world premieres
Herd Immunity (Kaza-Fr)
Dir. Adilkhan Yerzhanov
Songs For A Fox (Lith-Lat-Est)
Dir. Kristijonas Vildžiūnas
Perpetuity (Hun)
Dir. György Pálfi
Killing The Eunuch Khan (Iran)
Dir. Abed Abest
Big Night (Phil)
Dir. Jun Robles Lana
The Wait (Fin)
Dir. Aku Louhimies
A Vanishing Fog (Col-Czech-Nor)
Dir. Augusto Sandino
In competition – international premieres
A Place Called Dignity (Chile- Arg-Ger)
Dir. Matias Rojas Valencia
The Wedding Day (Pol)
Dir. Wojtek Smarzowski
No Looking Back (Rus)
Dir. Kirill Sokolov
Dear Thomas (Ger)
Dir. Andreas Kleinert
What Went Wrong? (Sp)
Dir. Liliana Torres
The List of Those Who Love Me (Turkey)
Dir. Emre Erdoğdu
The Gentiles (Sp)
Dir. Santi Amodeo
Make The Devil Laugh (Jap)
Dir. Ryuichi Mino
Mukagali (Kazak)
Dir: Bolat Kalymbetov
In competition – European premieres
No. 10 (Neth-Bel)
Dir. Alex van Warmerdam
Yanagawa (China)
Dir. Zhang Lu
Animals (Bel-Fr)
Dir. Nabil Ben Yadir
Out of competition
Compartment No 6 (Fin-Ger-Est-Rus)
Dir. Juho Kuosmanen
The King Of All The World (Sp-Mex)
Dir. Carlos Saura
Captain Volkonogov Escaped (Rus-Est)
Dirs. Aleksey Chupov and Natasha Merkulova