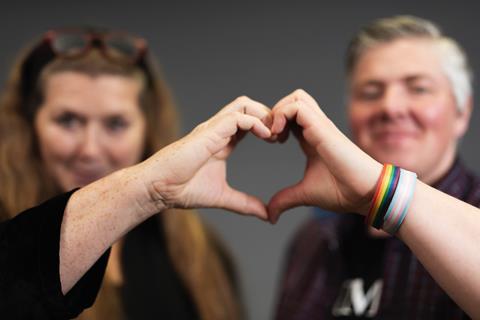 The new 10% For 5050 Campaign will be launched at the Berlinale today. The initiative is a collaboration between post-production powerhouse Chimney, which operates in nine countries, and Women in Film and TV International (WIFTI).
Already, 21 companies have signed up for the initiative, which will see each company give a 10% discount on its services for film productions that are gender balanced. Any service provider in the film and TV industry around the globe is invited to join the campaign and can find out more info at www.10percentfor5050.com.
Productions – ranging from shorts and features to VR and TV– can qualify by getting four points out of eight categories: female lead, female co-lead, female director, female writer, female producer, female representation on screen, 50% female crew, and female heads of departments. Two points per category can be earned if the woman is a person of colour and/or identifies as LGBTQIA+. A production can tap into the discount from more than one company for the same film.
The other companies taking part so far are Umedia (US, France, Belgium, UK), Ljud Media & Bild Media (Sweden), Shortcut (Norway),Sparks Camera & Lighting (Hungary), Angel Films (Estonia/Finland), Dramatify (Sweden), Gothenburg Studios (Sweden), The Line Stockholm (Sweden), Post Control (Finland), Dagsljus (Sweden), Maan Rental (Denmark), Good Film and Post (Sweden), Redpipe (Sweden), Way Creative (Sweden), Storyline (Norway) and colorist Ola Baccman (Sweden), BeoPost (Denmark), FilmGear (Denmark), ACT3 (Denmark) and TGBVFX (Denmark).
"We want to provide a tool to make the industry more diverse," says Helene Granqvist, president of WIFTI. "And we would like to use money as a tool for change."
"All the companies we have asked just said yes immediately," she continues. "The reaction I have gotten from participating companies is that they appreciate this is so concrete - and connected to production. If the work for gender equality can be integrated in production, I think it will be easier to implement in the industry."
Chimney CEO and founder Henric Larsson adds, "Sweden has for many years made a lot of efforts to support females in the entertainment industry, but as Chimney is an international company we see how far behind many countries still are. This is an opportunity to change that and empower women around the world to get their stories out to the audience."
Adrian Politowski and Nadia Khamlichi of Umedia added, "As a group we pride ourselves on our commitment to parity in the office space, parity on set and parity on screen. This commitment to change begins with initiatives like this one and we are proud to stand up and join WIFTI and Chimney in this new and exciting endeavor."
The launch is held today (Feb 8) at 13:30 at Norway House. The event will also see the unveiling of the Alliance of Women's Networks, a new pan-European network that brings together national organisations in more than 20 countries: Sweden, Germany, Ireland, Italy, Norway, Iceland, Greece, Finland, Lithuania, Georgia, Czech Republic, France, Switzerland, Austria, Denmark, Cyprus and the pan-European body EWA.