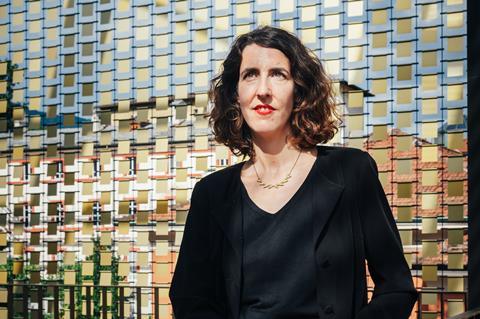 Lili Hinstin, the new artistic director of the Locarno Festival, is planning a sharper focus on younger audiences, short films and programming titles films from territories such as the UK which have not previously had a strong presence at the festival.
"British cinema has not been considered enough," she said. "British cinema has some hidden gems we have to launch."
In her previous job as artistic director of France's Belfort International Film Festival, France-born Hinstin programmed UK arthouse titles such as Joanna Coates' debut feature Hide And Seek in 2014. She described it as "a wonderful example of what British cinema can do nowadays" and as the type of film that could fit comfortably into the Locarno programme.
Hinstin will be in London to watch UK films at the British Film Institute for three days in April.
The new artistic director is encouraging her programmers to be flexible, to work across territories, and to view both features and shorts. "We are not super-rigid. We have decided with the selection committee that we won't divide territories in our programming work," she said.
There will also be a focus on a more youthful programming perspective and Hinstin cites the appointment of 26- year old Charlotte Corchète, with whom she worked at Belfort, to head the short film committee.
Piazza Grande
Hinstin and her team are looking to re-invigorate the festival's huge open-air Piazza Grande venue by programming buzzy, youth-oriented movies in a new midnight section. In its regular programme, the Piazza has given international premieres to high-profile international films, including Little Miss Sunshine, Waitress and The Lives Of Others. Hinstin said she is still planning to show these kinds of films to Locarno audiences.
"I am going to Los Angeles next week to talk about my vision," she explained. "There are already some films as good as Little Miss Sunshine that I'd like to show on the Piazza but it always depends on the US release date."
Hinstin has brought on board Mike Goodridge, artistic director of the Macao International Film Festival, the former CEO of Protagonist Pictures and a former editor of Screen International, as an adviser on the Piazza programme.
"Mike has long and deep connections with sales agents and American distributors representing films that might perfectly fit the Piazza Grande," Hinstin said of Goodridge's role.
Short films
Hinstin, who was appointed to succeed Carlo Chatrian who is suceeding Dieter Kosslick as artistic director of the Berlinale, unveiled the new online LSW (Locarno Shorts Week) at the Berlinale this week. Short films including Oren Adaf's Agvarim Shel Ella will be available to watch on the festival website from February 14 to March 12. Each day another short film will start streaming.
"There are many, many new programming propositions to be invented," said Hinstin of the new initiative. "This is a first try to give access to short films which aren't given so much space in the distribution area."
The Swiss festival will run from August 7-17 this year and will announce its full programme in a couple of months. One strand that has already been confirmed is First Look 2019, which will showcase new films in post-production from Serbia as part of the festival's Locarno Pro initiative.
The original intention had been to include titles from across the Balkans. "The whole region is boiling with energy and creativity," said Hinstin.
The Serbian industry has returned to international prominence thanks in part to the festival showcase given to recent films by Locarno, said Markus Duffner, the project manager of First Look of the programme which is being put together with the close co-operation of Film Center Serbia.
They include Boris Mitic's In Praise Of Nothing in the Signs of Life section in 2017 and the two short films in the Pardi di domani section, Loop by Matija Gluščević and Nobody Here by Jelena Gavrilović, he said.
Industry programme
Nadia Dresti, head of industry strand Locarno Pro, confirmed the festival is looking to build on the success of the Locarno Industry Academy, now inits ninth year. The festival's talent development programme now has offshoots all over the world, in New York, Morelia, La Mostra do Sāo Paulo, Valparaiso, Panama, Thessaloniki and Beirut - and Dresti said the festival is in discussion with other potential new international partners.
"We have developed a new generation of young future key players. We believe that they will help us to find new business models," Dresti said. "The Locarno Industry Academy International is a fantastic short cut to develop an international network."
Another part of the 2019 programme already confirmed is the Open Doors focus on south-east Asia and Mongolia (which lasts 2019-2021.) This combines three separate elements: coproduction platform the Open Doors Hub, development initiative The Open Doors Lab and the Open Doors Screenings.
"In addition to he already established filmmakers such as Rithy Panh, Apichatpong Weerasethakul, Lav Diaz, Brillante Mendoza, Tran Anh Hung, Davy Chou, Byamba Sakhya etc., all the countries that will be highlighted these three coming years have a promising new generation of talents but who most of the time lack professional training, creative producers, public funding and international connections to fully express their artistic visions and reach foreign audiences," said Sophie Bourdon, head of Open Doors.