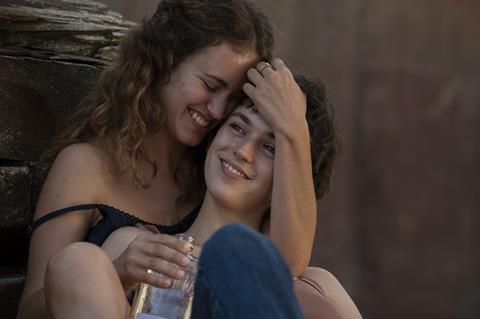 The 26th edition of the Malaga Film Festival kicks off today, giving the Spanish and international industry the chance to discover the latest films and talent emerging from the local and Latin America landscapes.
Twenty films will screen in the main competition. They include new films from returning Malaga filmmaker Elena Trapé, who won the best film and best director award in 2018 for The Distances. She's in competition with a drama called The Enchanced, starring Laia Costa, about a young mother who has recently separated and is missing her young daughter.
Scroll down for the competition line-up
The other Malaga regulars in competition are Félix Viscarret's Not Such An Easy Life, about an architect suffering a mid-life crisisn and Sílvia Munt's In The Company Of Women, based on the real-life stories of the women who fought for abortion rights in Spain in the 1970s.
Three of the films in competition arrive in Malaga fresh from the Berlinale, all first films: 20.000 Species of Bees by Estíbaliz Urresola Solaguren, that won child actress Sofía Otero the Silver Bear for Best Performance, Sica by Carla Subirana and Matria by Álvaro Gago.
The Latin American presence has been strengthened over the years and this year there are eight in competition. They are: Rebelión by José Luis Rugeles about a Colombian salsa musician; Saudade Fez Morada Aquí Dentro by Haroldo Borges, is a coming-of-age about a boy growing up in a small Brazilian town who suffers a degenerative ocular disease; Red Shoes, a first film from Carlos Eichelmann that premiered in Venice; Desperté Con Un Sueño by Pablo Solarz, which is also a coming-of-age story, this time about a young man passionate about music; Las Hijas, by Costa Rican director Katia G. Zuñiga, arriving in Malaga fresh from SXSW; La Pecera, a first feature by Glorimar Marrero about a woman suffering from cancer who goes back to her hometown; The Punishment by Matías Bize a single-shot film about a couple who lose their child in the woods; and Empieza El Baile by Marina Seresesky, a romantic drama about a tango dancing couple, played by Darío Grandinetti and Mercedes Morán.
Malaga takes pride in offering a platform for first features and the selection in this sense also includes Àlex Lora's Unicorns and Alejandro Rojas and Juan Sebastián Vásquez's Upon Entry.
Of the films in competition, seven (32%) are by women filmmakers. According to festival director, Juan Antonio Vigar, this is in line with the number of films submitted that were directed by women.
Malaga Competition 2023
20.000 Species of Bees (Spain)
Dir: Estíbaliz Urresola Solaguren
Under Therapy (Spain) World premiere
Dir: Gerardo Herrero
Desperté Con Un Sueño (Arg-Uru)
Dir: Pablo Solarz
The Punishment (Chi-Arg)
Dir: Matías Bize
El Fantástico Caso Del Golem (Sp). World premiere
Dir: Juan González, Fernando Martínez
The Enchanted (Sp) World premiere
Dir: Elena Trapé
Empieza El Baile (Arg-Sp) World premiere
Dir: Marina Seresesky
La Desconocida (Sp) World premiere
Dir: Pablo Maqueda
La Pecera (Puerto Rico- Sp)
Dir: Glorimar Marrero Sánchez
In The Company Of Women (Sp-Fr). World premiere
Dir: Sílvia Munt
The Daughters (Pan-Chi)
Dir: Kattia G. Zúñiga
Matria (Sp)
Dir: Álvaro Gago
Rebelión (Col-Arg-US)
Dir: José Luis Rugeles Gracia
Saudade Fez Morada Aqui Dentro (Brazil) World premiere
Dir: Haroldo Borges
Sica (Sp)
Dir: Carla Subirana
Tregua(s) (Sp)
Dir: Mario Hernández
Not Such An Easy Life (Sp)
DIr: Félix Viscarret
Unicorns (Sp)
Dir: Àlex Lora
Upon Entry (Sp)
Dirs: Alejandro Rojas, Juan Sebastián Vásquez
Red Shoes (Mex)
By Carlos Eichelmann Kaiser