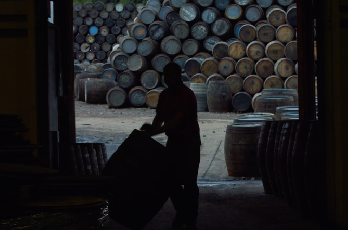 The UK's Parkland Entertainment, the distribution arm of Parkland Pictures that launched last month, has struck a deal at TIFF with Los Angeles-based Concourse Film Trade for its first acquisition, taking rights to whisky documentary Scotch – A Golden Dream.
Parkland Entertainment will partner on an early 2019 theatrical release with Munro Films, with whom Parkland co-owner Tom Stewart worked while at Arrow Films, where he served as acquisitions director until his departure last June.
Andrew Peat directed Scotch – A Golden Dream, which tells of legendary distiller Jim McEwan, who began sweeping the floors of a distillery and worked his way up to manage and build the brands of some of the world's most renowned scotch whiskies. The film recently played The Santa Barbara, Sonoma and Seattle Film Festivals.
"We're delighted to announce this inspirational feature documentary as our first key acquisition from TIFF18 and to be also partnering with Munro Films, who will oversee the UK/Eire theatrical release, which we hope will be the start of a very successful and exciting relationship," Stewart told Screen.
Kevin Hoiseth and Ryan Bury brokered the deal for Concourse Film Trade with Parkland Entertainment's Stewart. Concourse Film Trade is the sales arm of Concourse Media founded by Andrew Felts and Matthew Shreder.
"As a scotch enthusiast for many years, it's been such a pleasure working to bring this documentary to audiences across the globe," said Bury. "Andrew Peat has truly created a film that's as wonderfully curated and cared for as the finest glass of scotch, and we look forward to seeing the world get its first taste."