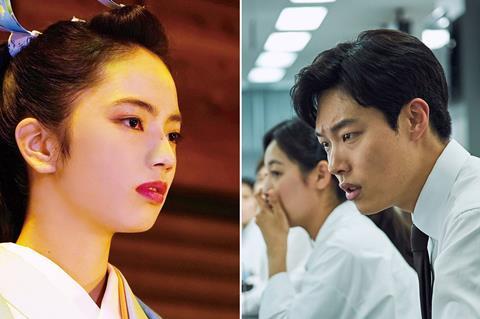 Japan's Nana Komatsu and Ryu Jun-yeol from South Korea will receive this year Screen International Rising Star Asia Award at the 18th New York Asian Film Festival (NYAFF), which runs from June 28-July 14.
Komatsu will receive her honour before the festival's opening night screening of Bernard Rose's action epic Samurai Marathon on June 28, and Ryu will receive his award on July 6.
Komatsu is in demand not only as an actor but is known as an influencer and fashion icon. She made her feature debut five years ago as Koji Yakusho's wild daughter in Tetsuya Nakashima's The World Of Kanako and won the Japan Academy Prize for Rookie of the Year. Martin Scorsese cast her in a small role in Silence, and her credits include Bakuman, Prophecy, Destruction Babies, Drowning Love, and It Comes.
Ryu gained recognition for his role in the 2015 drama Socialphobia and has starred in a number of film and TV roles since then, among them the 2017 historical epic The King, and 2017 A Taxi Driver, which became the highest grossing South Korean film of that year.
In 2018, Ryu played the lead in the crime thriller Believer and starred in Park Noo-ri's stock market scam thriller Money. He will next be seen in Won Shin-yun's historical action film Battle.
Previous recipients of the Screen International Rising Star Asia Award include Japan's Fumi Nikaido in 2014 and Shota Sometani in 2015; Japan's Go Ayano, China's Jelly Lin, and the Philippines' Teri Malvar in 2016; Thailand's Chutimon "Aokbab" Chuengcharoensukying in 2017, and Hong Kong's Stephy Tang in 2018.
The New York Asian Film Festival is co-presented by Film at Lincoln Center and the New York Asian Film Foundation.