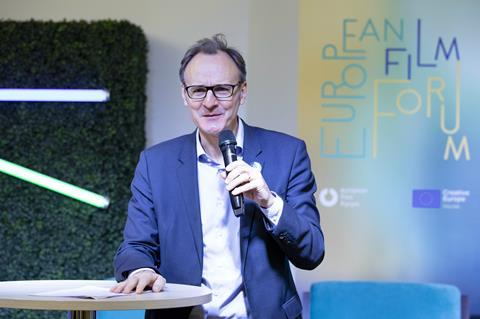 Increased training of new talent will be a key focus of the new iteration of Creative Europe/MEDIA, proposed to start in 2021, according to Martin Dawson, deputy head of unit at the European Commission (EC), if a budget raise is agreed for the programme.
He was talking at the European Film Forum at the Black Nights International Film Festival in Tallinn today (November 27).
"There has always been change to the audiovisual industry since it was invented 100 years ago," said Dawson. "Our proposal for the next period is ambitious. We want to increase the budget by 30% [to €1.85bn], we hope the ministers will agree. If we have the means, we will increase investment in talent. Currently there are about 3,000 people participating [annually] in training programmes supported by Creative Europe. We are aiming to reach up to 5,000, also using digital technology and online courses."
Dawson noted the new proposals for 2021-2027 and beyond were not a total overhaul. "Our slogan is evolution rather than revolution," he said.
"How do we make the most of the opportunities of this digital revolution while at the same time keeping our identity, our value and our diversity?," he proposed.
"This is a good moment to have this discussion, it a moment of accelerating change in the industry, it's a new cycle in the EU…it's not business as usual."
The European Parliament is voting on the new commission and commissioners in Brussels today.
"We will keep supporting the distribution of films in cinema theatres, the magic of the big screen," Dawon continued. "We will keep supporting the distribution of films across borders, that will remain a key element. We will keep supporting the development of films, we will also be supporting TV series, looking to support new types of content also."
VOD action plan
Dawson said a 40% growth in VoD revenues is a sign of an industry undergoing great change, and the EC wants to change with the times.
"It was recently agreed that VoD platforms should have a minimum of 30% of European content in their platforms. The action plan will build on this," he said.
"Overall our focus will be to help the industry to scale up, in this context of such intense international competition. We need to invest and experiment in new ways of doing things. Co-creation, co-distribution, co-promotion."
European ministers of culture recently discussed "the need to support more co-production, and to come together to invest in talent and skills, and also to be present in the world…to take more initiative and see the opportunities in terms of exports."
In the next 100 days the EC will also outline its framework in relation to artificial intelligence (AI) "to address some of the important ethical issues behind this strategic technology which will have an impact on creativity. Which could have implications on freedom of expression, freedom of choice. Artificial intelligence is data and processing that data, so having access to that data is a key issue."
Addressing gender equality, Dawson noted there is still more work to be done. "The participation of women in the audiovisual industry has been a key issue in recent years. In the MEDIA programme, we have been collecting data systematically on gender balance in our programme, we see we that overall we are comparing favourably in market trends. About 50% of participants in our training programmes are women. But overall we know we have much more do to."