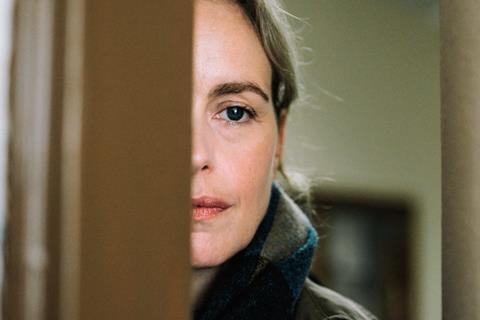 German actress Nina Hoss is optimistic about more female directors getting feature films off the ground.
This makes sense when you consider her two most recent movies – Katrin Gebbe's Pelican Blood and Ina Weisse's The Audition – were both directed by women. Her upcoming drama, Schwesterlein, was co-directed by Stéphanie Chuat and Véronique Reymond.
But her "hope" things are improving for female directors is tempered by a question about getting their movies into festivals. "At festivals, the eye is on the decision-making," says Hoss. "If you don't invite female festivals, why is that?"
But while those directors have achieved success with their features, Hoss adds female filmmakers should not be dismissed if their fail with a project.
"Why should [female directors] be immediately incredible? Men aren't," says the actress, adding women should be offered the same "possibility to be bad" that has always been afforded to their male counterparts.
Both features will be screened at Filmfest Hamburg which opens on September 26 and runs until October 5. Hoss is set to receive the Douglas Sirk Prize, bestowed on a personality who has made outstanding achievements within film culture and film industry.
Sirk, born in Hamburg, was the director behind Hollywood movies such as Magnificent Obsession and Written On The Wind, which proved to a big influence on German filmmaker Christian Petzold. Hoss has worked with Petzold numerous times, starring in dark melodramas including Phoenix, Jerichow, Barbara and Yella.
"I got to learn about Douglas Sirk from Christian," recalls Hoss, who won Berlin's Silver Bear for her performance in Yella in 2007. "It's not that we copied [Sirk] or saw him as an idol. It's just the film noir [elements], the structure of the films, the way the stories are told."
Petzold's collaboration with Hoss is often likened by critics to that between Marlene Dietrich and Josef Von Sternberg but they have not worked together since she played an Auschwitz survivor in 2014's Phoenix. "We're on a little pause, which is also necessary," says Hoss.
The Audition received its world premiere at Toronto, and Katrin Gebbe's Pelican Blood opened Venice's Horizons sidebar.
Horsemanship and violin lessons
Hoss filmed her two new features back-to-back. Pelican Blood, which opened Venice's Horizon's sidebar and is sold by Films Boutique, sees Hoss play a horse trainer who adopts a troubled young girl. In The Audition, a Toronto premiere being sold by Les Films du Losange, Hoss stars as a violin teacher who risks everything to devote herself to training a young protégée.
The quick turnaround didn't allow much time for research. But Hoss threw herself into "horsemanship" for Pelican Blood while taking violin lessons via Skype in preparation for The Audition.
"I wasn't aware that violin playing is so intuitive," she says. "If you are not fluid enough, the sound won't come…you need to let go. If you have trouble with that, like Anna in the film, you won't get there.
"The more pressure you put on yourself, the less good you will be. That is something I know from acting too. You need to find a balance of discipline and control and freedom and risk."
English-language projects
Alongside the titles showing at Hamburg, Hoss recently completed Netflix series Criminal and Berlin-set Cold War thriller series Shadowplay, in which she stars alongside Taylor Kitsch, Michael C Hall and Tuppence Middleton. These follow other English-language projects such as US spy series Homeland and Anton Corbijn's A Most Wanted Man.
But Hoss takes stardom in her stride. "I see the red carpet and everything that comes with it as a kind of game, like another kind of stage appearance… I don't take it too seriously," she says. "The actual interaction with the audience happens when I am sitting watching the film with them, not so much on the red carpet."
She lives "quite quietly" in Berlin and isn't harassed on the streets by autograph hunters. Nonetheless, Hoss is almost certainly the only winner of a best actress Silver Bear who has also performed with a leading indie rock band at Glastonbury.
Thanks to her husband, Alex Silva, a music producer who grew up in Cardiff, she was recruited to sing on the Manic Street Preachers' Futurology album, which they recorded in Berlin. The band members were already fans of her films with Petzold and nervously asked if she might consider working with them. She recalls: "I had an amazing trip into the music world because I experienced everything a musician dreams of. I was in Glastonbury on stage, I was on the Jools Holland show. It was fantastic."