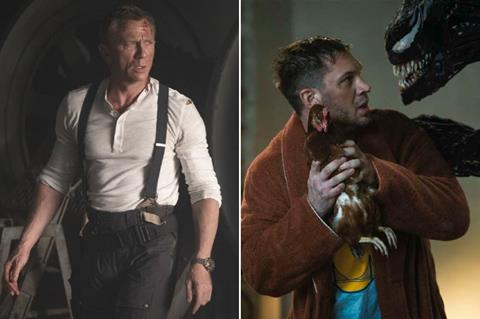 Worldwide Box Office October 1-3 2021
| Rank | Film (Distributor) | 3-day (World) | Cume (World) | 3-day (Int'l) | Cume (Int'l) | Territories |
| --- | --- | --- | --- | --- | --- | --- |
| 1. | The Battle At Lake Changjin (various) | $201.3m | $232.9m | $201.3m | $232.9m | 1 |
| 2. | No Time To Die (Universal) | $119.1m | $119.1m | $119.1m | $119.1m | 54 |
| 3. | Venom: Let There Be Carnage (Sony) | $103.9m | $103.9m | $13.8m | $13.8m | 2 |
| 4. | My Country, My Parents (various) | $75.7m | $89.6m | $75.7m | $89.6m | 1 |
| 5. | The Addams Family 2 (Universal) | $18m | $18m | - | - | 1 |
Credit: Comscore, all figures estimates
Sensational UK leads No Time To Die pack in $119m opening
UPDATED: With No Time To Die, Universal and MGM have delivered the first $100m opening for a US studio film in the pandemic era without the benefit of China. The 25th official Bond film grossed a confirmed $121.3m from 54 markets: $93.8m for Universal territories and $27.5m for MGM ones. IMAX screens accounted for $6.8m of this total.
In like-for-like markets and at current exchange rates, the No Time To Die number is in line with Skyfall and 17% below Spectre excluding previews, advises Universal on background.
For Universal, UK/Ireland led the way with a confirmed $35.1m for the four-day opening period. Friday-to-Sunday takings represent the biggest three-day weekend in the history of the Bond franchise.
Hitherto, the biggest film of the pandemic era in UK/Ireland was Peter Rabbit 2, with $27.4m (£20.2m). The market has been missing the kind of giant hits that traditionally provided the box office engine in the territory in pre-pandemic times. No Time To Die's opening goes a long way to reassure UK/Ireland cinema operators that giant audiences are possible in the Covid era.
The successful opening also validates the Bond stakeholders' decision to repeatedly delay release of No Time To Die until conditions at cinemas were more favourable, as well as the decision to finally release the film now – despite the fact that global box office has not returned to pre-pandemic levels.
Also for Universal, Germany delivered a confirmed $15.1m – the territory's biggest opening of the pandemic by far. Japan delivered $5.5m – above both Skyfall and Spectre excluding previews. South Korea is next with $4.6m.
For MGM, Denmark delivered a confirmed $5.4m and had the highest-grossing Saturday ever, 17% ahead of Avengers: Endgame. Sweden came next for MGM, with $4.3m.
There are another 15 international markets yet to open. This week sees the film land in France (October 6) and Russia/CIS (October 7). The North America release is also this week (October 8).
Although Skyfall and Spectre are the second- and third-biggest films of all time at the UK box office (behind Star Wars: The Force Awakens), the franchise has not proved so potent globally. Skyfall is the 28th biggest film of all time at the global box office with $1.11bn ($804m for international and $304m in North America). Spectre ranks 66th, with $881m ($681m, for international and $200m in North America).
North America leads charge for Venom: Let There Be Carnage
With an estimated $104m opening weekend, Sony's Venom: Let There Be Carnage is right behind No Time To Die in the global rankings. But the breakdown of that number is totally different. The Venom sequel scored an estimated $90.1m in North America (a pandemic-era opening record) and a lowly-seeming $13.8m in international.
However, that $13.8m total comes from just one territory: Russia/CIS. Given the international rollout of No Time To Die, Venom: Let There Be Carnage has yet to release everywhere else. (See here for full report.)
The Battle At Lake Changjin tops global box office
While No Time To Die and Venom: Let There Be Carnage are dominating the box office conversation for much of the world, both films were soundly beaten at the global box office at the weekend by The Battle At Lake Changjin.
China celebrated its National Day holiday on Friday October 1, occasioning the release of two giant titles. The Battle At Lake Changjin opened with $233m including Thursday previews, and My Country, My Parents began with $89.7m over the four days, according to Comscore data. (See China box office report.)
Dune passes $100m barrier
UPDATED: Warner Bros and Legendary's Dune understandably experienced a box office decline, given the arrival of No Time To Die, so the confirmed $14.7m weekend from 32 territories (down 49% from the previous session) will be seen as an acceptable erosion. Total after three weekends of play is $103.9m – all from international markets.
France, where No Time To Die has yet to open, led the way with $4.3m, taking the total to $21.2m. France now tops the box office league table for Dune, moving ahead of Russia/CIS, which is on $18.1m. Dune suffered significant box office erosion in Russia at the weekend, thanks to the arrival of Venom: Let There Be Carnage.
Germany remains the third biggest market for Dune, with $13.4m so far.
Next to open Dune is Japan, on October 15 – alongside three smaller markets. North America and many key international markets (including the UK) follow on October 22.
Shang-Chi And The Legend Of The Ten Rings tumbles to sixth
After four straight weeks at the top of the global box office rankings, Disney's Shang-Chi And The Legend Of The Ten Rings tumbles to sixth place – eroded by the Venom sequel in North America and Russia, and by the Bond film elsewhere. Weekend box office was an estimated $8.3m for international and $6.0m for North America.
Total after five weeks of play is a robust $387m globally, overtaking Black Widow ($379m) to become the third-biggest US studio title of the pandemic era – behind Fast & Furious 9 ($717m) and Godzilla Vs Kong ($468m).
Shang-Chi has yet to open in China, and also most of southeast Asia where cinemas mostly remain closed (exceptions being Singapore, Malaysia and Indonesia).