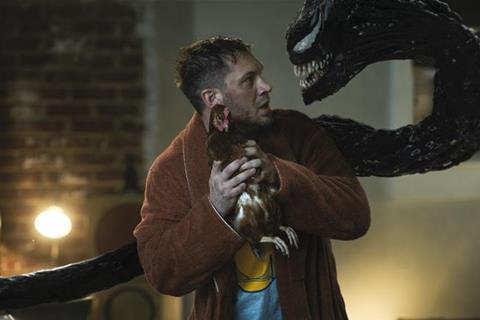 In another stirring exclusive theatrical release that will give confidence to exhibition and studios that forego the day-and-date route Columbia Pictures' Venom: Let There Be Carnage opened to an estimated $90.1m for the biggest three-day North American debut of the pandemic so far.
The result will be especially gratifying to theatrical distribution advocates and box office observers as it exceeded the pre-pandemic $80.3m debut of its 2018 predecessor and for the first time overall North American box office combined to trail the same session in 2019 by less than 15%.
The $90.1m opening weekend includes all Imax and PLF screens and the Tom Hardy vehicle grossed $37.29m on Friday and $31.6m on Saturday and is projected to take $21.21m on Sunday from 4,225 locations.
Tom Rothman, chairman and CEO of Sony Pictures' Motion Picture Group, said: "We are so grateful to Tom, Andy, Kelly and all of the many gifted contributors who made such a unique and fun film. We are also pleased that patience and theatrical exclusivity have been rewarded with record results. With apologies to Mr. Twain: The death of movies has been greatly exaggerated."
Andy Serkis directed the sequel from a screenplay by Kelly Marcel based on a story by Hardy and Marcel. Woody Harrelson plays Hardy/Venom's nemesis Carnage and the cast includes Michelle Williams as well as Naomie Harries from No Time To Die.
Venom: Let There Be Carnage kick off its international run in Russia where it delivered Sony's biggest debut of all time on an estimated $13.8m as well as the biggest launch of the pandemic to date and the fourth biggest debut of all time by any release in the territory. It expands into Latin America this week before a wider rollout the following week.
Until the weekend Disney/Marvel Studios' Black Widow held the record for the top three-day pandemic-era debut on $80.4m, followed by Disney/Marvel Studios Shang-Chi And The Legend of The Ten Rings on $75.4m. The latter holds the title for the top four-day pandemic launch on $94.7m.
Venom finished its North American run on $213.5m and grossed $642.6m internationally for an $856.1m global haul.