Projects include The Distant Barking of Dogs, from The Act of Killing production company Final Cut For Real.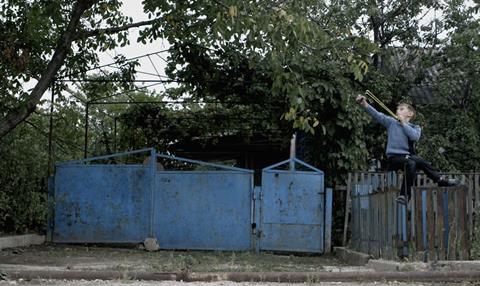 The Nordisk Panorama Forum for Co-financing of Documentaries, to be held in Malmo, Sweden from Sept 18-20, has selected 24 documentary projects to be pitched to industry professionals.
They include Johan Von Sydow's Swedish documentary about American musician Tiny Tim; Lea Glob's Danish documentary about a female painter's coming of age in Paris; Emil Trier's feature debut about Norwegian con man Waleed Ahmed; and The Act of Killing production company Final Cut For Real's new Ukraine-set project The Distant Barking of Dogs [pictured], directed by Simon Lereng Wilmont.
The full list of projects being pitched
16, dir Kenneth Elvebaak, Fuglene (Norway)
Adil and the Spy, dirs Randi Mossige-Norheim & Johan Palmgren, Mantaray Film (Sweden)
Apolonia, Apolonia, dir Lea Glob, Danish Documentary (Denmark)
Confessions of a Military Dictatorship, dir Karen Stokkendal Poulsen, Bullitt Film (Denmark)
Femimam, dir Marie Skovgaard, House of Real (Denmark)
Hockey Dreams, dirs Janne Niskala & Oksari Pastila, Vaski Filmi (Finland)
Hunting For Hedonia, dir Pernille Rose Gronkjaer, Danish Documentary (Denmark)
Last Men in Aleppo, dirs Feras Fayyad & Steen Johannessen, Larm Film (Denmark)
Lost Diamond, dir Rita Broka, Laika Film (Sweden)
Mother Slave, dir Charlotta Stromberg, Illume (Finland)
My Heart Belongs To Daddy, dir Sofia Haugan, Indie Film (Norway)
Permaculture Preacher, dirs Heather Millard & Thordur Jonsson, Compass Films (Iceland)
Rodeo, dir Raimo Joerand, Traumfabrik (Estonia)
Surrogate, dir Sven Blume, WG Film (Sweden)
The Distant Barking of Dogs, dir Simon Lereng Wilmont, Final Cut For Real (Denmark)
The Russian Job, dirs Petr Horky, Krutart (Czech Republic)
The Waleed Ahmed Story, dir Emil Trier, Motlys (Norway)
War of Art,Tommy Bulliksen, Norsk Fjernsyn (Norway)
What's Eating Tiny Tim?,dir Johan Von Sydow, Momento Film (Sweden)
Wildcards being pitched
Expectations of Me, dir Julie Bezerra Madsen, Made In Copenhagen (Denmark)
The Mercurius of Molenbeek, dir Reeta Huhtanen, Zone2 Pictures (Finland)
Love, Always, dir Kristin Andrea Thordardottir, Poppoli (Iceland),
Dacca And the Reindeer, dir Fridtjof Kjaereng, fx (Norway)
Scheme Birds, dirs Ellen Fiske & Ellinor Hallin, Sisyfos (Sweden)
There are also 20 "observer+" projects selected. More than 260 professionals are expected to attend. The sister festival, Nordisk Panorama (Sept 16-21), has also confirmed its documentary competition titles.
Best Nordic Documentary
Becoming Zlatan, dirs Fredrik Gertten & Magnus Gertten (Sweden, Netherlands, Italy)
Brothers, dir Aslaug Holm (Norway)
Bugs, dir Andreas Johnsen (Denmark)
Diving Into The Unknown, dir Juan Reina (Finland, Norway)
Don Juan, dir Jerzy Sladkowski (Sweden, Finland)
Dugma – The Button, dir Paul Refsdal (Norway)
Keep Frozen, dir Hulda Rós Guðnadóttir (Iceland)
Magnus, dir Benjamin Ree (Norway)
MonaLisa Story, dir Jessica Nettelbladt (Sweden, Denmark, Norway)
Motley's Law, dir Nicole Horanyi Nielsen (Denmark)
Reflections, dir Sara Broos (Sweden, Latvia)
Return Of The Atom, dirs Mika Taanila & Jussi Eerola (Finland, Germany)
The Magnitsky Act, dir Andrei Nekrasov (Norway)
Those Who Jump, dirs Estephan Wagner, Moritz Siebert & Abou Bakar Sidibé (Denmark)
The festival also has two categories for short films, best Nordic short and best new Nordic voice.