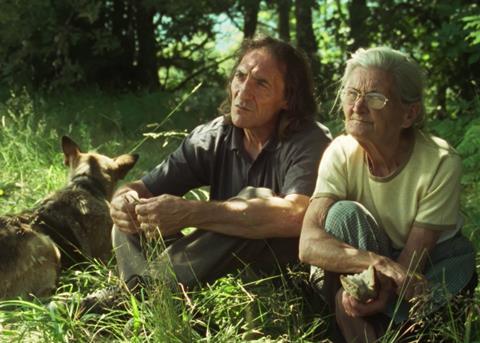 Oliver Laxe's Fire Will Come picked up two top prizes at the 60th Thessaloniki Film Festival (Oct 31-Nov 10) on Sunday, winning the Golden Alexander worth €15,000 for best film and a best actor award for Amador Arias.
Scroll down for full list of winners
The Spanish film, which won the Un Certain Regard Jury Prize at Cannes, centres on a convicted arsonist (Arias) who returns to his family home in rural Galicia. Pyramide International handles world sales.
Maya Da-Rin's The Fever won the Silver Alexander special jury award, worth €8,000. The drama, which explores the issues of indigenous people in Brazil through a security guard, debuted at Locarno where lead Regis Murupu won best actor. Paris-based company Still Moving handles sales.
The Bronze Alexander for best director was awarded to Melina Leon for Peruvian baby trafficking drama Song Without a Name. The film, which played in Directors' Fortnight in Cannes, has been picked up for Greece by distributor Danaos Films from sales and production outfit Luxbox.
Greta Fernandez was named best actress for her performance as a young, hard-working mother in Belén Funes' Spanish drama A Thief's Daughter, first seen at San Sebastian.
The international jury included former Berlin Panorama head Wieland Speck, French actress Ariane Labed, UK producer Jacqui Davies, Lithuanian director Rugilė Barzdžiukaitė and Greek-French actress Angeliki Papoulia.
An honorary Golden Alexander award went to director John Waters for his contribution to the art of cinema.
Industry prizes
TIFF's Agora industry section hosted 15 projects in the 15th Crossroads Co-Production Forum and a further 11 films in the Agora Works in Progress.
The co-production award went to Nadine Salib's The Land Beyond and will see the Egyptian fable receive full post-production image and sound services, presented by Greek company 2/35.
The French CNC development award, worth €8,000, went to Neritan Zinxhiria's The Gospel According To Kimon.
In the works in progress prizes, Matteo Tortone's Mother Lode received the Eurimages Lab Award, worth €50,000. Producers on the Italian feature include Alexis Taillant and Nadège Labé of Wendigo Films.
Serbia-Croatia project Metamorphose, directed by Dusan Joric and Matija Gluskevic, received the Graal post-production award.
Sound Stages Given Greenlight
The talk of TIFF's industry was the announcement of new sound stages in Thessaloniki.
Nu Boyana Hellenic Film Studios will comprise eight sound stages with a capacity of 15,000 sq m as well as a backlot across 25,000 sq m and is set to begin operations in 2021.
The $25m project has been privately financed by New York-based York Studios and Bulgaria's Nu Boyana Film Studios. It was announced at TIFF respective CEOs John Kalafatis and Yariv Lerner.
The National Centre of Audiovisual Media and Communication (EKOME) is backing the project, which is financing the training of local technicians in Sofia's Nu Boyana facilities.
EKOME is running a 35% cash rebate and its CEO Panos Kouanis confirmed to Screen the previously announced 35% tax credit scheme "should start running by the end of the year".
Digital Governance minister Kyriakos Pierrakakis added "EKOME will receive further backing" from the new conservative government.
Thessaloniki and the Central Macedonia region is already running a full-fledged film commission office, part of the regional film commissions coordinated by EKOME and the Greek Film Centre.
60th Thessaloniki Film Festival Awards
Best film (Golden Alexander)
Fire Will Come (Sp-Fr-Lux)
Dir. Oliver Laxe
Special jury award (Silver Alexander)
The Fever (Braz-Fr-Ger),
Diir. Maya Da-Rin
Best diirector (Bronze Alexander)
Melina Leon for Song Without A Name (Peru-Spa-US)
Best actress
Greta Fernandez, A Thief's Daughter (Spa)
Best actor
Amador Arias, Fire Will Come (Spa-Fra-Lux)
Golden Alexander award – Meet the Neighbors
Tlamess (Tun-Fr),
Dir. La Eddine Slim
Best film - virtual reality competition
Passenger (Aus), Dirs. Isobel Knowles, Van Sowerwine
Special Mention: Family Portraits (Gr), Dir. Maria Mavropoulou
FIPRESCI AWARDS
International competition
Beware Of Children (Nor-Swe)
Dir. Dag Johan Haugerud
Greek Film Festival 2019 section
Siege On Liperti Street (Gre-Cyp)
Dir. Stavros Pamballis
The Greek Film Critics Association (PEKK) Award
Siege On Liperti Street (Gre-Cyp)
Dir. Stavros Pamballis
HUMAN VALUES AWARD
International competition
Beware Of Children (Nor-Swe)
Dir: Dag Johan Haugerud
ERT S.A. (HELLENIC BROADCASTING CORPORATION) AWARDS
Fischer audience award and Fipresci award
Siege On Liperti Street (Gre-Cyp)
Dir: Stavros Pamballis
GREEK FILM CENTRE AWARDS
Greek debut film
Rinio Dragasaki for Cosmic Candy (Gre)
ex aequo
Costas Athousakis for Persephone (Gre)
Best Location Award
Minos Nikolakakis for Entwined (Gre-UK)
The "J.F.Costopoulos Foundation" Award
Not To Be Unpleasant, But We Need To Have A Serious Talk (Gre),
Dir. Yiorgos Georgopoulos
MERMAID AWARD
Moffie (S Afr-UK),
Dir. Oliver Hermanus
Special Mention: Song Without A Name (Peru-Spa-US), Dir. Melina Leon
WIFT AWARD
Cosmic Candy (Gre), Dir. Rinio Dragasaki
YOUTH JURY AWARDS
Best feature film
Defunct (Gre),
Dir. Zacharias Mavroeidis
Special Youth Jury award
The Miracle Of The Sargasso Sea (Gre-Ger-Neth-Swe),
Dir. Syllas Tzoumerkas
FISCHER AUDIENCE AWARDS
International Competition
Defunct (Gre),
Dir. Zacharias Mavroeidis
Greek Film Festival 2019 section
Siege On Liperti Street (Gre-Cyp),
Dir: Stavros Pamballis
Balkan Survey section
What A Country! (Cro-Ser-Pol),
Dir: Vinko Bresan
Open Horizons section
The Swallows Of Kabul (Fr),
Dir:. Zabou Breitman, Elea Gobbé - Mevelle