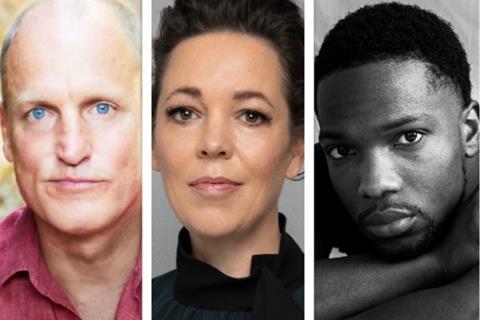 Blueprint Pictures has signed Olivia Colman, Woody Harrelson, Tosin Cole and Chloe Bailey to star in Girl From The North Country which Rocket Science will introduce to EFM buyers next week.
Playwright Conor McPherson wrote and will direct the feature based on his Tony-winning show inspired by the songs of Bob Dylan.
Based in 1934 in Duluth, Minnesota, during the Great Depression, the story follows a group of travellers whose lives intersect in a guesthouse filled with music, life and hope.
Things are spiralling out of control for proprietor Nick (Harrelson). His wife Elizabeth (Colman) is suffering from dementia, the bank is foreclosing on their home and their adopted daughter, Marianne (Bailey), has a closely guarded secret.
When escaped convict Joe (Cole) seeks shelter at the guesthouse, a relationship develops between Marianne and Joe that will change everything forever.
Blueprint Pictures' Graham Broadbent and Pete Czernin are producing. CAA Media Finance will represent the film's US rights.