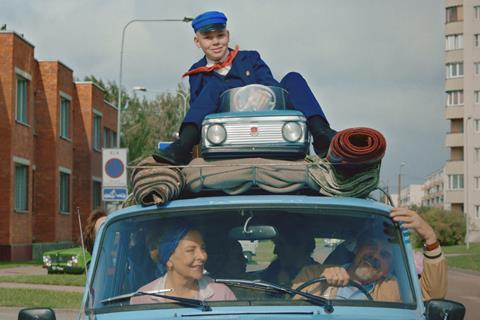 London-based sales outfit One Eyed Films has secured international sales rights to Estonian comedy Goodbye Soviet Union, which scooped the audience award at the Tallinn Black Nights Film Festival last month.
One Eyed Films negotiated the deal with Estonian production company Exitfilm, which excludes Estonia, Finland, Latvia, Lithuania, Russia and CIS.
The Estonia-Finland co-production marks the feature directorial debut of Lauri Randla, who also wrote the coming-of-age story set during the final days of the Soviet Union.
The comedy centres on a boy named Johannes, who is raised by his eccentric grandparents in a Soviet Estonia town, while his political activist mother seeks work in the West. As Lenin falls, the family come together to navigate the collapse of the Soviet empire.
The film was released in Finland by B-Plan Distribution, where it topped the box office following its July 10 opening, before its international premiere at Tallinn Black Nights Film Festival in November, where it played in the first feature competition. It was subsequently released in Estonia on November 27.
Producers are Peeter Urbla for Exitfilm, and Mark Lwoff and Misha Jaari for Finland's Bufo. The project was backed by the Estonian Film Institute, the Cultural Endowment of Estonia, the Finnish Film Foundation, Finnish public broadcaster YLE and Eurimages.