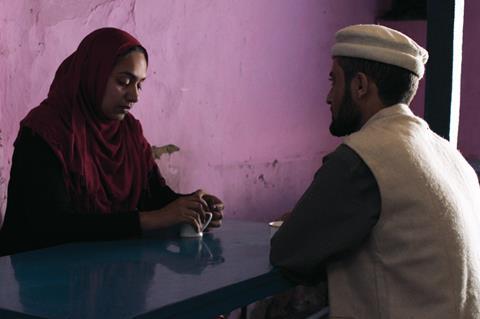 Timothy O'Brien's Los Angeles-based sales company Oration Films has picked up a quartet of international sales title for EFM led by Praveen Morchale's Widow Of Silence.
Widow Of Silence (pictured) launches in Europe this month with near simultaneous screenings at Rotterdam, Goteburg and Vésoul. It received its world premiere at Busan and won Best Indian Film at Kolkata in November. O'Brien holds worldwide rights excluding India.
"Widow is a beautiful poetic film which spotlights the true-to-life story of a Kashmiri woman who needs a death certificate for her disappeared husband so she can support her family," said O'Brien. "We think it's a gripping story as well as an important insight into a women's issue."
Oration has acquired worldwide rights excluding Mongolia to the Mongolia-UK indie romance They Sing Up On The Hill, which also launched at Busan.
"My idea of Mongolia was totally changed by this delightful romance which is also an unexpected tour through a musically diverse Ulaanbaatar," said O'Brien.
Rounding out the shopping spree are New Zealand crime thriller Blue Moon directed by Stefen Harris, and Imogen Thomas's Australian family film, Emu Runner. Oration holds worldwide rights excluding the native territories on both titles.