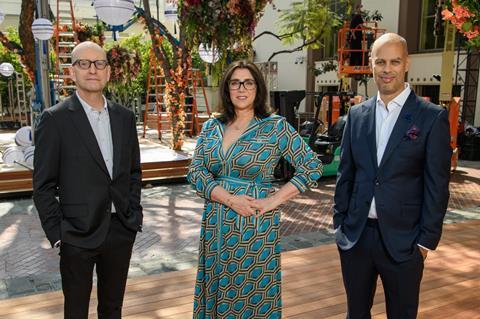 The 2021 Oscar ceremony will be shot like a three-hour film, include a "teeny tiny" red carpet, and will contain personal segments by winners and presenters, show producer Steven Soderbergh said over the weekend.
The filmmaker also told a virtual press conference on Saturday (April 17) ahead of the 93rd Academy Awards on April 25 that winners would deliver speeches by satellite hook-up.
"The reason for that being we can control that image," he said, "we can control the sound, we can have it be more integrated into the overall feeling of the show."
The show will take place at the Los Angeles venues of Dolby Theatre and Union Station – where Soderbergh's fellow show producer Stacey Sher said there will be a "teeny tiny red carpet" – and feature satellite links with international locations including BFI Southbank in London, and Paris.
On the matter of presenters and winners' speeches, Soderbergh added: "We want people to say something. We are giving them space and we've encouraged them… to tell a story and to say something personal."
Sher said, "We were all dealt this blow with Pacific and ArcLight and the Cinerama Dome being in question [the Pacific chain announced it was closing down last week]. And we are here, with these extraordinary nominees, to make a case for why cinema matters."
Jesse Collins, the third member of the show producing team, added, "We are going to give you three hours of entertainment. The films have been honest. It's going to be a very sincere show, and it's also going to be optimistic. It's going to show us where we can go in the future and I think that is exactly what the Oscars needs to be at this time."
The pre-show will start at 3.30pm PT local time on Sunday (25) and will be pre-taped with performances by best original song nominees Celeste, H.E.R., Leslie Odom, Jr., Laura Pausini, Daniel Pemberton, and Diane Warren recorded on the rooftop of the as-yet-unopened Academy Museum of Moving Pictures in central Los Angeles. Molly Sandén will perform 'Húsavík' from Eurovision Song Contest: The Story Of Fire Saga in Iceland.
Interviews designed to bring the viewer inside Hollywood and the Oscar experience. The ceremony proper will start at 5pm.
Turning to the pandemic, Soderbergh said "there is no universe in which we are going to ever put anybody at risk".
He said the goal was to stage a safe show that offers a glimpse of what will be possible when there is widespread vaccination, and accurate, affordable rapid testing was the norm.
"We want to put [Covid] in its place and then sort of move forward," added the director of 2011 pandemic drama Contagion (which Sher produced) who was at the forefront when Hollywood came up with its "The Safe Way Forward" protocols and took advice while planning the Oscars show from epidemiologists who consulted on Contagion.
When asked about the policy on masks, Soderbergh replied, "Here is our quote on that: masks are going to play a very important role in the story of this evening. And if that is cryptic, it's meant to be. That topic is very central to the narrative."