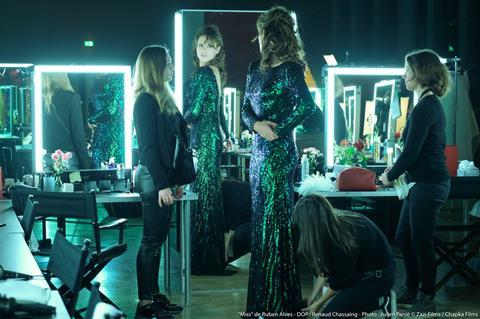 Other Angle Pictures has unveiled fresh deals on upcoming French comedy Miss, starring androgynous model Alexandre Wetter as a young man who sets his heart on winning the Miss France contest.
The title has secured new sales to Germany (SquareOne Entertainment), Japan (Aya Pro) and Korea (Valjean International). Earlier deals include to Benelux (Paradiso), Switzerland (Praesens), Canada (AZ films), Portugal (NOS Lusomundo) and Brazil (Pandora Filmes/Providence Filmes).
It is the second feature of French-Portuguese actor-director Ruben Alves after his 2013 well-received The Gilded Cage about a Portuguese caretaker couple working in a Paris apartment block, which drew 1.2m spectators in France and sold well internationally.
The film was due to be released in France on March 11 but distributors Warner Bros. France postponed the launch at the beginning of March, ahead of the closure of cinemas on March 14 as part of the country's covid-19 lockdown measures.
French cinemas began reopening on June 22 and the film has now been re-dated for September 23.
Wetter is best known as a model on Paris's haute couture catwalks but has previously had small parts in shorts and TV series including The Marvelous Mrs. Maisel.