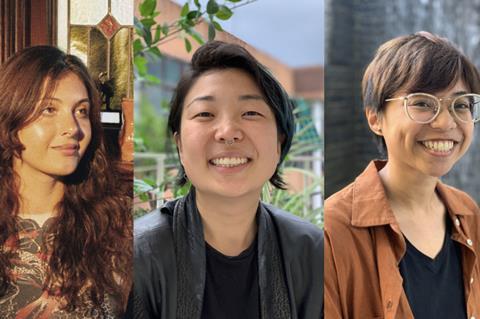 Out On Screen and the Vancouver Queer Film Festival have named Eva Grant, Romi Kim, and Jasmine Monton as inaugural recipients of the VQFF Programming Disruptor Fellowship.
The new training and mentorship programme for emerging BIPOC, 2SLGBTQIA+ film programmers considered a pool of 54 applicants. Each Fellow will receive at least $10,000 throughout the fellowship running February to August.
Spanning five phases, the initiative combines masterclasses, workshops, and hands-on experience. Speakers will include Changing The Game, DISCLOSURE and Framing Agnes producer Alex Schmider and LGBTQ+ media advocacy organisation GLAAD.
Led by Out On Screen's new artistic director, Charlie Hidalgo, the Disruptor Fellowship programme seeks to effect change in the Canadian film industry and shepherd new talent into a field which Out On Screen and Vancouver Queer Film Festival said was "in critical need of diversification".
"The talent and vision of this group are astounding," said Hidalgo. "Each brings a unique lens and robust creative practice to the program, ranging from film, performance, music, cultural programming, and community development. I couldn't be more excited to collaborate with this brilliant team in the curation of the 35th anniversary of the Vancouver Queer Film Festival."
The Fellowship programme will culminate in the 35th annual Vancouver Queer Film Festival, an 11-day festival taking place in-person and online from August 10-20. The Disruptor Fellows will be credited as festival programmers for their contributions in curating films and events for the festival.
This year's festival programming team will also welcome Sarah-Tai Black as festival and industry programmer.
Grant is a bilingual filmmaker operating at the intersection of queer and BIPOC storytelling, and the founder of Tooth & Nail Pictures. She is the creator of the dark comedy web series Degrees Of Separation and is in pre-production on her short film as an ImagineNATIVE Screenwriting Shorts Fellow.
Kim – also known as SKIM in drag – is an interdisciplinary artist who works in video, performance, installation, and photography. Their work has been exhibited in South Korea, the UK, and Canada, most recently at SUM Gallery and Polygon Art Gallery in Vancouver.
Monton – who also goes by the stage name Audder – is an artist whose work spans multiple genres They are a self-defined "gate-reaper", combating industry gatekeeping and growing healthy arts leadership. They also co-produce the Filipino Fridays Podcast.