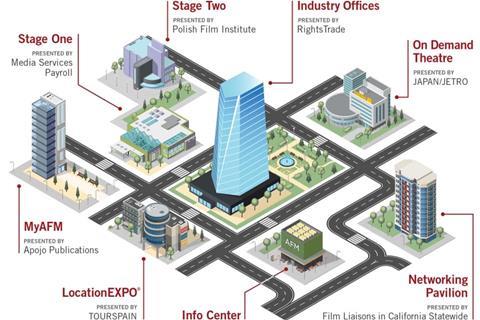 Conversations with Neon distribution head Elissa Federoff and Solstice Studios head Mark Gill, industry panels addressing the pandemic and intimacy on set, and a look at Hollywood podcasts are among the initial line-up of AFM 2020 Online.
More than 70 industry sessions are confirmed to run alongside the market and screenings from November 9-13 which, like so many others has gone virtual during the pandemic.
The AFM's opening Conference, The Future Of Film, will feature one-on-one conversations with Gill, whose Solstice Studios released Unhinged, the first major new film back in reopened US cinemas last summer, and Federoff, who masterminded the release of Oscar-winning Parasite.
More than 200 speakers are confirmed to participate in two "stages" for conferences, panels, conversations, workshops, podcasts, and presentations.
Topics include how to produce without a completion bond featuring Cinetic Media founder John Sloss, Motion Picture Corporation of America CEO Brad Krevoy, and The Exchange CEO Brian O'Shea; and pandemic production solutions with Manchester By The Sea producer Chris Moore and Maven Pictures partner Celine Rattray, among others.
Film London and British Film Commission CEO Adrian Wootton, Cornerstone Films co-president Alison Thompson, British Film Institute (BFI) head of certification Anna Mansi, and Film4 senior commissioning executive Julia Oh will talk on the panel 'Keep Calm and Carry On Filming' presented in partnership with the BFI.
MadRiver International partner Kim Fox will join Millennium Media president Jeffrey Greenstein and The Exchange EVP of worldwide distribution Nat McCormick in a session on pre-sales moderated by Screen.
Panel topics include low budget films with profit potential featuring XYZ Films partner Nick Spicer, Screencraft co-founder John Rhodes, and The Forest Road Co. CEO Zachary Tarica, and working with sales agents, featuring Foresight Unlimited president Tamara Birkemoe, Film Mode president Clay Epstein, and producer Jordan Yale Levine of Yale Productions.
Panels will also address what Latinx audiences want; the director-producer relationship with Entertainment Squad CEO Shaked Berenson, among others; Hollywood star John Cena on producing comedy; navigating intimacy on set; and streamers.
Troma co-founder Lloyd Kaufman will talk on how to make a film in 60 minutes or less, and the roster includes a look at some of the top Hollywood podcasts.
Visit the AFM website for the full roster of events.