Pretty Pictures CEO James Velaise explains why he pulled "brilliant picture" after Paris attacks.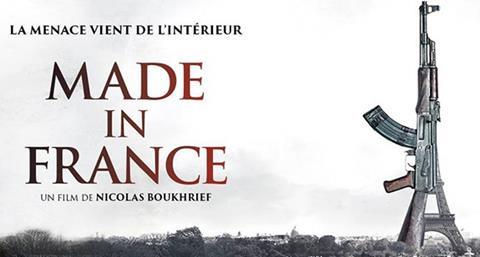 French terror plot thriller Made in France will not be released before the beginning of 2016, following Islamic State attacks in Paris over the weekend.
"We need to re-evaluate the best time to bring the film out," said James Velaise, president of Paris-based Pretty Pictures, who decided to halt a scheduled release on 100 copies this Wednesday (Nov 18) following the carnage in the French capital on Friday night that saw at least 132 people killed and left 350 injured.
"No-one put any pressure on us to pull the film," he added. "The cinemas didn't suddenly say we're not going to give you the screens. We just decided the subject matter was too close to home to what happened on Friday.
"I can't see it coming out for at least another six, or even eight weeks. We have to see how events unfold."
The sixth feature of French journalist-turned-director Nicolas Boukhrief, Made in France stars Algerian-French actor Malik Zidi as a journalist who becomes embroiled in a terror plot after he infiltrates a Jihadi cell as part of his research for a book.
Paris-based sales company WTFilms screened the film, entitled Inside the Cell for the international market, at the American Film Market (AFM) earlier this month.
Poster campaign pulled
Velaise revealed he and producer Eric Besnard scrambled on Saturday morning to suppress an edgy campaign featuring an AK-47 incorporated into the form of the Eiffel Tower after the carnage in Paris on Friday night.
"There was a big campaign with 350 posters in the Metro. Out of respect, they were pulled on Saturday morning," said Velaise. "The campaign in the national press was due to start on Monday and that's been pulled too.
"We also temporarily closed down the Facebook page because there were a huge amount of likes on it. No-one forced us to do this we just acted out of a sense of respect and responsibility."
Some commentators have suggested that the poster campaign was in poor taste but Velaise fiercely defends the artwork.
"A big agency did the artwork. We wanted something that was fairly conceptual and intellectual. It's a poster you remember. If you can pull that off from a marketing point of view you've done your work."
"Brilliant thriller"
Speaking about the film, Velaise added: "It's a brilliant thriller. It explores how people get brainwashed and how these terror cells operate.
"It was very well researched over a number of years. Nicolas and Eric took advice from anti-terrorist experts and there is a clear message in the film which is 'you nut cases will not win'."
Velaise revealed that the film was originally scheduled to hit screens two weeks ago on Nov 4 but that he had decided to wait.
"There were too many films coming out. I thought the screens would be more accessible if we waited two weeks," he explained.
Expectations for its performance had been relatively high following a good response from French critics and 300,000 views of an online trailer.
Pretty Pictures took over the distribution of Made in France - which wrapped in 2014 - from mainstream distributor SND ahead of the summer after the latter got nervous about its storyline in the light of the Charlie Hebdo killings in January.
"I really liked this film and from a marketing point of view the subject is really interesting." said Velaise. "I felt enough time had elapsed between Charlie Hebdo but now we're back to square one."