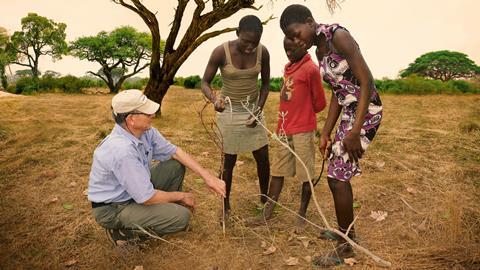 German sales agent Patra Spanou Film is to introduce veteran German filmmaker Volker Schlöndorff's first feature documentary, The Forest Maker, to international buyers at the Cannes market next week.
The completed documentary focuses on the Australian agronomist Tony Rinaudo who has lived and worked in Africa for several decades. There he has discovered and put in practice a solution to the extreme deforestation and desertification of the Sahel region.
The Forest Maker was released by Weltkino in German cinemas on April 7. Schlöndorff has travelled to 39 towns and cities throughout Germany - from Kiel in the north to Garmisch-Partenkirchen in the south - to discuss the film with the audiences in 44 cinemas.
The last stop on this marathon tour was at Berlin's Filmkunst 66 cinema on Wednesday evening (11 May ) when former federal chancellor Angela Merkel made a point of attending.
"This film is a light of hope, a tone set by the protagonist Tony Rinaudo, whose commitment and work with the locals on an equal footing, helped to apply a pragmatic and inexpensive afforestation method that could be applied all over the world," Spanou explains. "By turning the camera on the local farmers, especially the women who have to deal with the ecological crisis in everyday life, Schlöndorff creates an authentic insight of rural life reality from Senegal to Ethiopia."
The Forest Maker is produced through Thomas Kufus' zero one Film with Schlöndorff's own company Volksfilm.
Cannes slate
Patra Spanou will also be in Cannes with the German prison drama Future Is A Lonely Place by Martin Hawie and Laura Harwarth which has just been acquired by Swift Distribution for France. Starring Lucas Gregorowicz, Katharina Schüttler and Denis Moschitto, the HUPE Film Fiktion production has screened in competition at festivals in Shanghai, Cologne, Mannheim-Heidelberg, Rome, and Reims, among others.
Patra Spanou will also be looking for more buyers for the Chilean LGBT comedy Phantom Project by Roberto Doveris which was acquired by Dark Star for North American distribution after its screening at the Seattle International Film Festival last month.