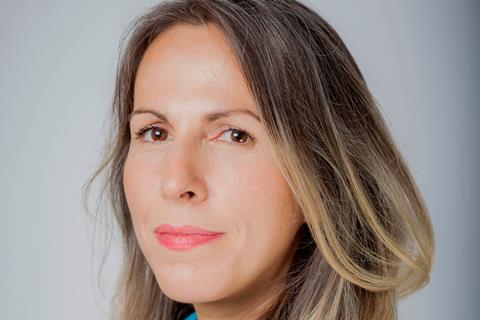 Paula Vaccaro, producer of Venice award-winner On The Milky Road and documentary Uncle Howard, has revealed further details of her upcoming projects.
The founder of production outfit Pinball London, who will curate several of this year's Sarajevo CineLink Talks for Documentary Campus, will be in Venice next month to unveil drama feature Listen.
The film, which will play in the Orizzonti strand, marks the debut of Portuguese director Ana Rocha and was also scripted by Vaccaro with partner Aaron Brookner and Rocha.
Sold by Magnolia Pictures International, Vaccaro and Brookner produced the London-set drama alongside Rodrigo Areia's Bando A Parte (Portugal). Lusomundo is now on board to handle the Portuguese distribution.
Listen is notable as one of the first ever Portugal-England co-productions. It is shot in English and Portuguese and also uses British sign language. One of its main characters is deaf child Lu, played by deaf actor Maisie Sly, who also appeared in Chris Overton's Oscar-winning short, The Silent Child.
The film is a Cathy Come Home-style drama about a struggling Portuguese immigrant couple in London fighting to keep their family together and deals with the issue of forced adoptions. The cast also includes Lúcia Moniz, Sophia Myles and Ruben Garcia.
Financing was raised from the Portuguese Film Institute, Portuguese broadcasters and the UK film tax credit as well as private investment. The film was introduced to buyers at the Cannes Virtual Marché in June.
New Brookner project
Pinball London is also pushing ahead with Brookner's next film as a director, comedy drama Secret Dust.
Bando A Parte will co-produce alongside Vaccaro and Barrington Robinson of UK outfit Redbag Pictures. Vaccaro describes the new project as "the story of a British music promoter who is trying to fight corporations and algorithms to defend her music festival."
The script, co-written by Brookner and Vaccaro, is now complete. Heather Basten, casting director on Listen, will again be involved.
Vaccaro confirmed that she is not currently working with double Palme d'Or winner Emir Kusturica, with whom she has collaborated on Maradona (2008), portmanteau film Words With Gods (2014) and On The Milky Road (2016).
Vaccaro and Brookner are also writing and developing TV drama series Radical Eye: The Life and Times of Tina Modotti, which has attached Monica Bellucci to play the Italian photographer, model, actress, and revolutionary political activist who later became an active Communist member in Mexico in the early part of the 20th Century. Producers are Gaston Pavlovich of Fabrica de Cine and Alex Garcia of AG Studios.
Other project in Pinball's pipeline includes an adaptation of Simon Sebag Montefiore's 1997 novel My Affair With Stalin, which is set to be made as a series.
This week, Vaccaro is moderating several CineLink Talks (register here) as part of Sarajevo's industry platform, beginning with a session on Radical New Strategies For Distribution on August 15.