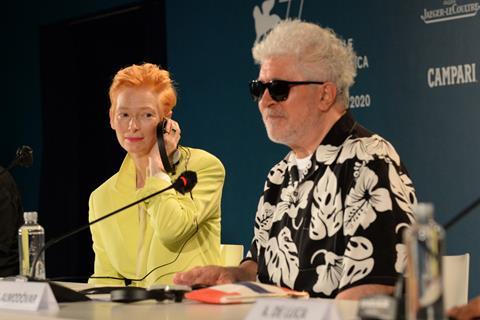 Spanish director Pedro Almodovar has heralded cinema as the "antidote" to quarantine and said releasing his films on streaming platforms would sever contact with his audiences.
The Oscar-winning filmmaker spoke at a press conference in Venice, where he is screening his first English-language short, The Human Voice. The 30-minute film stars Tilda Swinton, who joined the director and his brother and producer Agustin Almodovar at the event.
Speaking about how audiences turned to streaming platforms during the pandemic, Almodovar said: "The lockdown has forced us all to stay at home. It has proved the extent to which we all depend on fiction. Fiction has been a good way to fill our time. Culture is absolutely necessary."
However, the Spanish auteur issued a note of caution regarding this trend and the essential nature of cinema. "There is also another result, negative and reason for concern, because lockdown has shown us our homes as places where we are imprisoned," he said. "I would oppose this forced seclusion with something else. The antidote is the cinema, the opposite of all of this. Going to the cinema is an adventure.
"We have to regain and find the life that is in the street. The Greeks talk of catharsis. You find yourselves crying or laughing with other people. As a director, I would tell you that is very important."
The director behind Pain & Glory, Volver and Talk To Her also voiced his opposition over straight-to-streaming releases. "If I put my film on a platform like Netflix, I somehow lose that contact with my audience," he said. "Some things will only be discovered on the big screen, in the dark, with people we do not know."
"New cycle"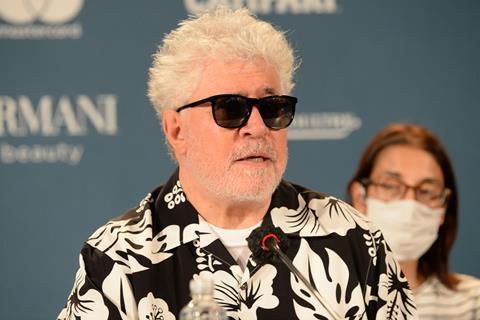 Discussing his latest project, Almodovar said he is embarking on "a new cycle" in his life and work, with an emphasis on leaner narratives and with "fewer elements".
"From Julieta on, there is a change in my work and cinematography," he said.
The Human Voice is part of that ongoing cycle and had a script that Almodovar wrote in Spanish before it was translated into English.
"If there were some expressions that could be changed, I gave [Swinton] full freedom to change the wording, [to use] expressions she found more suitable.
"At the beginning, it was difficult working in a different language but as soon as the character became hers, it was brilliant, it was beautiful. I had never heard that musicality before."
Almodovar has several shorts and feature projects in the pipeline including one which is a "different kind of western". Another is a dystopian drama called A Strange Form Of Life. He is due to go into pre-production on his next film in October.
Swinton's "complicity"
Swinton, who received an honorary Golden Lion for lifetime achievement yesterday and gave a masterclass in Venice today, spoke of her enduring admiration for Almodovar's work.
"Women On The Verge Of A Nervous Breakdown was the first time I saw his spirit and I have been entirely besotted by his cinema ever since," she said.
"I have a friend at home in the north of Scotland who is a Benedictine monk. I see him occasionally. I saw him about 12 years ago. He always says he is going to remember me in his prayers and one day he said to me, 'I have a special prayer for you to work with Pedro Almodovar'.
"I thought it [the idea] was ridiculous. I am not Spanish. I don't speak Spanish but as Pedro and I have discussed many times, there is a language of cinema which is a complicity between us. It is an incredibly proud moment for me to sit beside him."