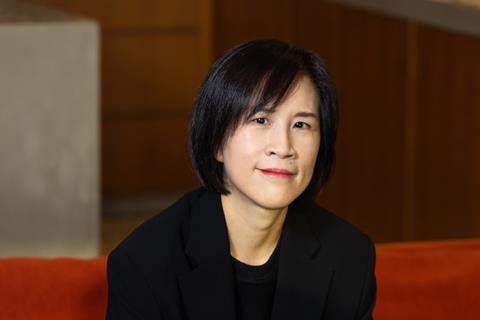 Former Edko Films executive Esther Yeung has been appointed chief operating officer of Hong Kong filmmaker Peter Ho-sun Chan's We Pictures.
In her new role, she will continue to grow We Pictures' slate, while broadening its business in the areas of content creation, IP development and distribution. She will report directly to Chan.
Yeung most recently served as general manager, head of sales and distribution, at Bill Kong's Hong Kong-based producer-distributor Edko Films. During her tenure, she headed acquisition and oversaw the local release of films such as Oscar winners Parasite and Moonlight, and Asian hits such as Train To Busan, Bad Genius, Secret Superstar and Shoplifters.
More recently, she oversaw the on-going global release of Anita, a biopic of Cantopop star Anita Mui produced by Kong, which has become Hong Kong's highest-grossing film of the year and grossed $16m in China where it is still on release.
Prior to Edko Films, Yeung worked for five years as director of Asian acquisitions, sales and marketing at Hong Kong and Amsterdam-based sales outfit Fortissimo Films with Michael J. Werner and the late Wouter Barendrecht. While at Fortissimo, she helped Asian auteurs launch their films at international festivals and markets, working on titles such as Air Doll by Hirokazu Kore-eda and Norwegian Wood by Tran Anh Hung.
Chan is an award-winning director and producer with credits including Perhaps Love, The Warlords, American Dreams In China, Dearest, and most recently Leap, which was China's submission to the best international feature category of the Oscars last year.
On joining We Pictures, Yeung said: "I've admired We Pictures' versatile and innovative way of filmmaking and their exceptional track record in championing talented filmmakers and great stories. I am thrilled to have such a tremendous opportunity to work with Peter and the team at We Pictures. With the world's growing appetite for unique content, I am excited to join them and build on my knowledge of international markets to give We Pictures a more global footprint."
Peter added: "I've known Esther since her days at Fortissimo, but really got to know her a lot better through working with Edko on We Pictures projects we co-distributed. I admired and appreciated her persistence and resilience when we worked together. And I especially value the relationships she built with filmmakers across the region through the years. I am sure Esther will have great contributions to We Pictures on our future slate expansions throughout Asia and beyond."