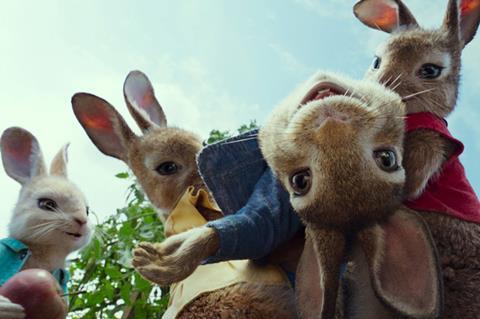 | Rank | Film / Distributor | Weekend Gross (Fri-Sun) | Running Total | Week |
| --- | --- | --- | --- | --- |
| 1 | Peter Rabbit (Sony) | £5.6m | £24.3m | 3 |
| 2 | Ready Player One (Warner Bros) | £4.0m | £6.7m | 1 |
| 3 | Isle Of Dogs (20th Century Fox) | £2m | £2.2m | 1 |
| 4 | Black Panther (Disney) | £1.1m | £47m | 7 |
| 5 | Blockers (Universal) | £932,196 | £1.7m | 1 |
Today's GBP to USD conversion rate - 1.41
Sony Pictures
Peter Rabbit became Sony Pictures' widest ever UK release, playing in 694 locations this three-day Easter holiday weekend (the UK has roughly 760 cinemas) and staying top of the box office chart.
Boosted by Good Friday takings of £2.3m, the film was up 21% over the previous three-day weekend, adding £5.6m to take it to a running total of £21.6m. The Easter Monday brought in a further £2.6m, taking it to £24.3m after three weeks. Both Good Friday and Easter Monday are holidays in the UK.
Peter Rabbit surpasses Sony Pictures Animation's previous highest grossing film in the UK, Hotel Transylvania 2 (£20.7m), and puts it ahead of recent family titles such as Zootropolis (£24m) and Coco (£18.3m running total).
After three weeks and a day on release, the film is tracking ahead of both Paddington (£14.6m) and Paddington 2 (£23.3m), though this rabbit may not have a long enough tail to challenge those films' overall grosses (£37.9m and £42.8m respectively).
After a tough opening last weekend that saw it take just £27,000 from 103 sites, Babak Najafi's US crime drama Proud Mary added £927 for a £52,000 gross to date.
Warner Bros
Steven Spielberg's Ready Player One opened this weekend with a £4m three-day opening from 624 sites. Its gross is now £6.7m, which includes Easter Monday and previews from last week.
The three-day total of £4.0m is the fourth best for Spielberg in the UK, behind The BFG (£5.3m) War Of The Worlds (£8.6m) and Indiana Jones And The Kingdom Of The Crystal Skull (£12.2m) and comfortably tops recent Spielberg releases such as The Post (£2.2m), Bridge Of Spies (£1.7m) and Lincoln (£1.7m).
Spielberg's highest-grossing UK film remains 1993's Jurassic Park (£47.9m) and while Ready Player One has the blockbuster status, it's unlikely to have the mass appeal to get close to that total.
Tomb Raider dropped to ninth in the chart in its third week, adding £569,00 for the three-day weekend. It now sits on £6.9m.
20th Century Fox
Wes Anderson's stop-motion animation Isle Of Dogs opened to £2m from its 472 sites for an average of £4,326. Including previews, the film is up to £2.2m.
That's Anderson's best ever UK opening, topping 2009's The Grand Budapest Hotel (£1.53m) and his previous stop-motion feature Fantastic Mr Fox (£1.5m) in 2009. The latter went on to gross £9.2m, comfortably his best performing title in the UK to date.
The Greatest Showman is officially out of the UK top five after thirteen consecutive weeks, falling to sixth in its fourteenth weekend with £809,504. The musical is up to £41.8m and has now surpassed the lifetime of Les Miserables (£40.8m).
Ahmed Khan's Hindi-language thriller Baaghi 2, starring action star Tiger Shroff (who is set to star in an Indian remake of Rambo) opened into 216 sites over Easter. The film posted takings of £216,269 for a site average of £4,241.
In its second week, Steven Soderbergh's Unsane added £161,371 for £1m to date.
Elsewhere, Red Sparrow is up to £6.2m after adding £132,060, Three Billboards Outside Ebbing, Missouri posted £109,789 for £14.9m to date, while The Shape Of Water is up to £7.5m after adding £73,448.
Disney
Black Panther dropped to fourth in the chart this weekend, adding £1.1m. The film is now up to £47m.
A Wrinkle In Time fell to 10th in the chart in its second weekend, adding £390,000 over the three-day. It's now up to £1.7m to date.
Coco received a £100,000 Easter boost for £18.3m to date.
Universal
US comedy Blockers, starring Leslie Mann and John Cena, posted a three-day weekend of £932,196, which added to previews and the bank holiday Monday for takings of £1.7m to date.
Pacific Rim Uprising added £655,542 in its second weekend for £3.4m to-date, still a long way shy of the original film's £8.4m gross.
Entertainment
Family animation Duck Duck Goose opened over Easter with £1m from 453 cinemas, including previews.
Trafalgar
Event cinema release Cosi Fan Tutte played in more than 200 venues over Easter, taking £264,926 for a site average of £1,286, with around 30 cinemas yet to be tallied.
Curzon
The Square added £53,288 over the weekend to take it to £597,481 to date.
On the horizon
Paramount has the John Krasinski-directed thriller A Quiet Place out on Thursday (April 5), Lionsgate has UK horror Ghost Stories, 20th Century Fox has coming-out drama Love, Simon, Vertigo has the Death Wish remake, Studiocanal has Todd Haynes' Wonderstruck, Universal has Cory Finley's drama Thoroughbreds, Curzon has the Cannes hit BPM (Beats Per Minute) (120 Beats Per Minute), while Sky Cinema has the second film under its day-and-date distribution deal with Altitude, thriller The Hurricane Heist, out in the UK.