Dir: David Lowery. US. 2016. 102mins.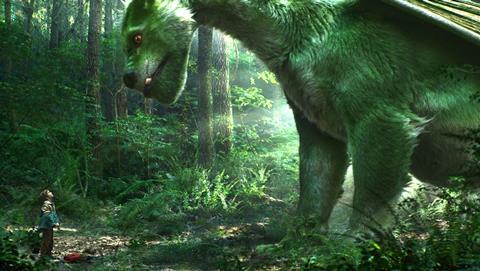 A boy's best friend is his dragon, and in this remake of the 1977 Disney film, director David Lowery brings an intriguing, sometimes uneven air of lived-in magic to what is otherwise a sturdy but familiar tale of makeshift families and coming-of-age drama. This Pete's Dragon boasts a gentle, subdued tone, and the filmmaker behind the atmospheric indie Ain't Them Bodies Saints has crafted a follow-up with the same folkloric quality, resulting in an undemanding but emotional movie that should play best with younger audiences, who may be put under its modest spell.
Amidst a cavalcade of big, spectacle-driven studio films, Pete's Dragon possesses an unpretentious sweetness.
Opening in the US and UK on August 12, Pete's Dragon is Disney's third major release this year to feature a young orphan paired with CG creatures; the studio no doubt hopes that the film's theatrical grosses are closer to The Jungle Book (currently $938 million worldwide) than to The BFG (only $72 million currently). Pete's Dragon somewhat resembles The BFG's unhurried tone, which may cause Disney some concerns, not to mention the fact that the 1977 film isn't exactly a beloved classic. But good reviews and a cast that includes Bryce Dallas Howard and Robert Redford should help bring out family audiences, giving kids one last event film before returning to school.
Set in an unspecified area of the Pacific Northwest in what appears to be the late 1970s or early 1980s, Pete's Dragon introduces us to Pete (Oakes Fegley), a 10-year-old who has resided in the thick woods outside the town of Millhaven ever since he survived a car crash five years ago that claimed the lives of his parents. Spending his time hanging out with his dragon confidant Elliot, Pete is spotted by Grace (Howard), a friendly forest ranger who's engaged to Jack (Wes Bentley), who operates a nearby lumber mill. Befriending Jack's daughter Natalie (Oona Laurence), Pete feels torn between returning to civilization and spending his days with Elliot.
Lowery, who also co-wrote Pete's Dragon, eschews the original's musical numbers and broad comedy for a more thoughtful, sensitive look at death and connection. Still traumatized by his parents' sad end, Pete has found in Elliot a safe haven, and so we understand why this impressionable child would prefer the untamed woods to the uncertainty of society.
Although the original Pete's Dragon predates E.T., Lowery's film recalls Spielberg's film in its study of a relationship between a boy and an outsider who have become friends because they're both misfits of sorts. Rendered through CG, the nonverbal Elliot is, unlike most onscreen dragons, furry instead of scaly, and he's been given big puppy-dog eyes and a generally lovable manner that, with a few explosive exceptions, rarely wavers. If that limits Elliot's chances to seem genuinely ferocious, or truly majestic, it's on par with Lowery's overall strategy to imbue the proceedings with a more genial, storybook-cosy vibe.
Sporting long, flowing hair and an almost feral spirit, Fegley isn't riveting as Pete, but he manages to convey the confusion and panic that overtake the boy once he's brought to Millhaven. To be sure, Pete's shaky reintegration into society carries with it expected jokes and obstacles — he's bewildered by certain household items and cultural norms — but by emphasizing the low-key stakes, Lowery and his young star focus on Pete's internal struggle rather than going for dopey fish-out-of-water laughs.
As with Ain't Them Bodies Saints, which was a Malick-ian crime drama set in Texas, Lowery shows an ability in Pete's Dragon to convey a sense of place with offhand gracefulness, utilizing Daniel Hart's delicate score to enhance the movie's timeless, ethereal qualities. Shot in New Zealand, this Pete's Dragon seems to exist outside of a discernible place or era, which allows the story's elemental, simplistic themes to emerge unadorned. Lowery expresses dismay at the despoiling of the natural world and the tendency for people to distrust what they don't understand, and the understated life lessons float effortlessly out of the very fabric of the film. Pete's Dragon sports an undeniably old-fashioned, even slightly square demeanour, but even when that aura feels a tad forced, Lowery's loving care gives the movie a likeable, small-scale charm.
The adult actors haven't been given complex roles, but Howard ably suggests Grace's sincerity and decency, while Redford comfortably portrays her good-natured, twinkle-eyed father, who for years swore he saw a dragon in those woods when he was a boy. Karl Urban, playing Jack's small-minded brother, can't do much as the film's de facto heavy who's determined to make a fortune from capturing Elliot. His obsession leads to Pete's Dragon's perfunctory finale in which the kindly dragon must face deadly terror, but even here Lowery does his best to sidestep the predictability of such a resolution, seeking the quieter, more resonant moment that connects to his movie's overall themes. Amidst a cavalcade of big, spectacle-driven studio films, Pete's Dragon possesses an unpretentious sweetness in which the fantastical creature's soft heart is mightier than his fiery breath.
Production company: Whitaker Entertainment
Worldwide distribution: Disney, http://movies.disney.com/all-movies
Producer: Jim Whitaker
Executive producer: Barrie M. Osborne
Screenplay: David Lowery & Toby Halbrooks, based on a screenplay by Malcolm Marmorstein
Cinematography: Bojan Bazelli
Production design: Jade Healy
Editor: Lisa Zeno Churgin
Music: Daniel Hart
Website: http://movies.disney.com/petes-dragon-2016
Main Cast: Bryce Dallas Howard, Oakes Fegley, Wes Bentley, Karl Urban, Oona Laurence, Isiah Whitlock Jr., Robert Redford