EXCLUSIVE: UK and US distributors partner on release of Sundance winner starring Daniel Radcliffe and Paul Dano.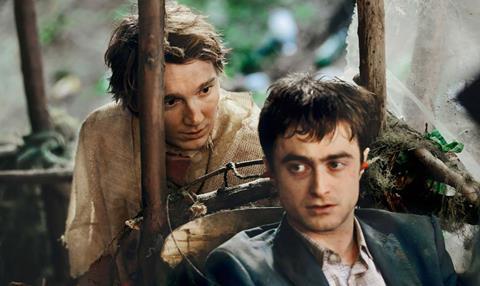 UK distributor Picturehouse Entertainment and New York outfit A24 are teaming on the UK release of Sundance winner Swiss Army Man, starring Daniel Radcliffe and Paul Dano.
The release date has been set for September 30 - the film's first international opening - but further details of the collaboration are being kept under wraps for now.
A24 initially picked up North American rights in Sundance and in April announced that it would be releasing the film worldwide, teaming up with distributors and platforms to market and release the film in individual markets.
The adventure comedy follows castaway Hank (Dano) who encounters a corpse named Manny (Radcliffe) when it washes up on shore. The pair become friends, embarking on a journey to bring Hank back to the woman of his dreams.
Directed and written by duo Dan Kwan and Daniel Scheinert, the film premiered at Sundance in January this year, winning a Directing Award.
The film was released in the US on July 1 (following a short limited run), grossing a healthy $4m, putting it amongst the best-performing US indies of the year.
Picturehouse has previously teamed with distributors including Altitude on UK releases such as Jeremy Saulnier's Green Room earlier this year, but this partnership is the first collaboration with a US distributor.
Distributor and financier A24 saw three of its titles win Oscars in 2016: Lenny Abrahamson's Room, Asif Kapadia's documentary Amy and Alex Garland's directorial debut Ex Machina. The company's future releases include John Cameron Mitchell's How To Talk To Girls At Parties and Andrew Haigh's Lean On Pete.
Picturehouse Entertainment director of programming and acquisitions Clare Binns commented: "Picturehouse and A24 are very like-minded companies and we look forward to the shared expertise and creativity both companies will bring to the UK release of such an original piece of work."