UK entertainment union Bectu is holding a protest in London today with striking Picturehouse staff.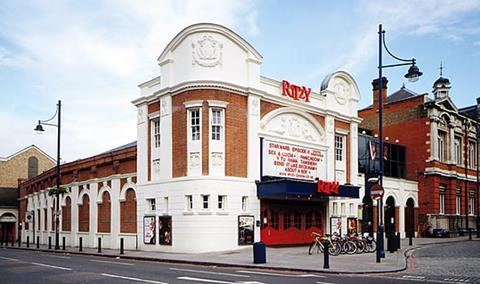 UK entertainment union Bectu is holding a protest in London's Leicester Square this afternoon (Feb 25) over an ongoing staff pay dispute with exhibitor Cineworld and its subsidiary Picturehouse.
According to Bectu, "the majority" of workers from four of Picturehouse's London venues - the Ritzy [pictured], Hackney Picturehouse, Picturehouse Central and Crouch End Picturehouse - are striking in order to join the protest.
Labour MP and shadow chancellor of the exchequer John McDonnell was due to attend today's protest, the union told Screen.
Bectu wants London Picturehouse venues to pay the London living wage of £9.75 per hour.
Staff at Picturehouse's Brixton location the Ritzy currently earn £9.10 per hour, while staff at other Picturehouse locations in London earn £9.05 per hour. Outside of London, the rate is £8.18.
Picturehouse this week defended the company's pay structure in a statement on its website.
"For many years Picturehouse Cinemas has paid its front of house customer service staff well above minimum wage.
"Our pay rates are amongst the highest in the industry and have enabled us to attract and retain staff who are knowledgeable about film, skilled in many areas and able to offer high levels of service," read the statement, which is available in full here.
Support
One of the Bectu campaign's highest-profile backers to-date has been director Ken Loach who has joined Picturehouse staff at previous protests.
Loach sported a 'Living Staff Living Wage' badge on the red carpet at this year's Baftas.
London mayor Sadiq Khan has also backed the campaign, writing a letter in early January to Cineworld CEO Moshe Greidinger in which he urged the exhibition chief to "do everything possible to ensure all staff receive the LLW [London Living Wage]".
Writer Caitlin Moran recently took to Twitter to call on Picturehouse to pay its staff the London Living Wage:
Duke of York
Meanwhile, Bectu is balloting unionised staff at Picturehouse's Duke of York's cinema in Brighton over potential strike action.
It is also understood to be gathering high profile signatories for a letter to Greidinger calling for a boycott on Picturehouse and Cineworld venues.
A press release issued by the union yesterday called for "company sick pay for all staff, company maternity/paternity pay for all, fair pay rises for different roles and union recognition for the union chosen by the workers of the striking sites".