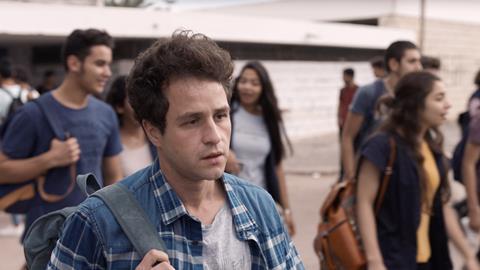 Mohamed Ben Attia's Dear Son (pictured), Yeo Siew Hua's A Land Imagined and The Man Who Surprised Everyone, from Natasha Merkulova and Aleksey Chupov, are among the films selected for the Crouching Tigers section of this year's Pingyao International Film Festival (PYIFFF).
The section, dedicated to debut or second features from new talents, will also screen the world premiere of Hotel Imperio, from Portuguese director Ivo Ferreira (see full line-up below).
Meanwhile, the festival's Hidden Dragons section, dedicated to "imaginative and original genre films from around the world", will screen the world premiere of Chinese filmmaker Ye Jiangtian's When Love Blossoms and recent festival hits such as Phuttiphong Aroonpheng's Manta Ray and Ho Wi-ding's Cities Of Last Things.
The festival, launched last year by Chinese filmmaker Jia Zhangke, with Marco Müller as artistic director, will run October 11-20 in the ancient city of Pingyao in Shanxi province in China.
It will open with omnibus film Half The Sky, comprising shorts from five female directors exploring the theme of womanhood and femininity by telling stories of different women. The five directors are Daniela Thomas, Elizaveta Stishova, Ashwiny Iyer Tiwari, Liu Yulin and Sara Blecher.
Special presentations also include Liu Kuo's The Wind Guardians, selected by festival mentor and leading Chinese actor-director-producer Xu Zheng, Indian omnibus Lust Stories and the restored version of Johnnie To's Throwdown.
The festival line-up also features six gala screenings, including the world premieres of Vetri Maraan's Vada Chennai and Liu Miaomiao's Red Flowers And Green Leaves, while the 'Best of Fest' section will screen five titles including Lukas Dont's Girl and Alice Rohrwacher's Happy As Lazzaro.
Sidebars focused on Chinese cinema include 'New Generation China' and 'Made in Shanxi', while a retrospective section will focus on Soviet New Wave cinema from the '60s and '70s.
Master Classes include sessions presented by Lee Chang-dong, Laz Diaz, Abderrahmane Sissako and Johnnie To, while panel discussions will explore film criticism, acting, storytelling and copyright protection.
CROUCHING TIGERS:
Dear Son (Weldi), dir: Mohamed Ben Attia (Tunisia) AP
The Load (Teret), dir: Ognjen Glavonić (Serbia) AP
Empire Hotel (Hotel Imperio), dir: Ivo Ferreira (Portugal) WP
Soni, dir: Ivan Ayr (India) AP
Meteors, dir: Romain Laguna (France) AP
The Man Who Surprised Everyone, dirs: Natasha Merkulova & Aleksey Chupov (Russia) CP
A Land Imagined, dir: Yeo Siew Hua (Singapore) AP
The Crossing, dir: Bai Xue (China) AP
HIDDEN DRAGONS
The Silences, dir: Beatriz Seigner (Brazil) AP
The Trouble With You, dir: Pierre Salvadori (France) CP
Volcano, dir: Roman Bondarchuk (Ukraine) AP
Manta Ray, dir: Phuttiphong Aroonpheng (Thailand) CP
Cities Of Last Things, dir: Ho Wi-ding (Taiwan) CP
When Love Blossoms, dir: Ye Jiangtian (China) WP