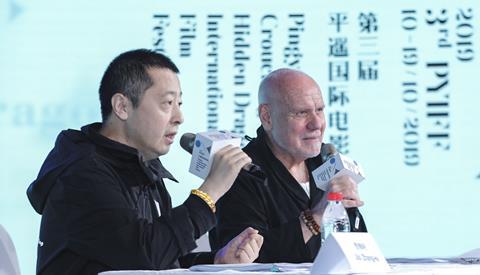 Pingyao International Film Festival (PYIFF) has unveiled the bulk of its programme for this year's edition, including the world premiere of Indian filmmaker Tushar Hiranandani's sports drama Bull's Eye, which will screen as a special presentation on Pingyao Night.
Hong Kong filmmaker Jacob Cheung's The Opera House, starring Mason Lee and Ouyang Nana, will also receive its world premiere at PYIFF as the closing film.
So far the festival, founded by Chinese filmmaker Jia Zhangke with Marco Mueller as artistic director, has announced 52 films from 26 countries, among which 28 are world premieres. A further five or six titles will be revealed in early October.
The Crouching Tigers section, dedicated to debut or second features, includes titles such as Cesar Diaz' Camera d'Or-winning film Our Mothers, Anthony Chen's Wet Season and Joe Odagiri's They Say Nothing Stays The Same.
Hidden Dragons, previously a section for genre films, is now dedicated to new Chinese cinema and includes titles such as Zu Feng's Summer Of Changsha, which premiered in Cannes Un Certain Regard this year, along with two other Asian premieres and three world premieres (see full list below).
Genre films are being recognised in a new section, 'Nocturne', with titles including Blaise Harrison's Particles, Takashi Shimizu's Howling Village and Yoshihiro Hanno's Paradise Next.
In addition to Bull's Eye, gala screenings at the festival will include Shannon Murphy's Babyteeth, Midi Z's Nina Wu and Ding Wenjian's Brick. Other recent festival favourites, such as Mati Diop's Atlantics, Pema Tseden's Balloon and Jeremy Clapin's I Lost My Body, will screen in the 'Best of Fest' section.
As previously announced, PYIFF is also hosting a retrospective of Indian New Wave cinema from the 1950s to the 1970s. The 12-title line-up includes classics such as Mani Kaul's Uski Roti, Mrinal Sen's Bhuvan Shome and Ritwik Ghatak's The Cloud-Capped Star and The Pathetic Fallacy.
Other highlights include restored versions of Xie Fei's A Mongolian Tale and Zhang Yimou's Red Sorghum, along with the returning 'Made In Shanxi' section, which will screen four films made in Shanxi province where Pingyao is located.
This year's edition of the festival will run October 10-19 at the purpose-built festival centre in the historical city of Pingyao.
CROUCHING TIGERS:
Our Mothers (France/Belgium/Neth/Lux/Guatemala), dir: Cesar Diaz (CP)
They Say Nothing Stays The Same (Japan), dir: Joe Odagiri (CP)
A Certain Kind Of Silence (Czech/Netherlands/Latvia), dir: Michal Hogenauer (CP)
Eeb Allay Ooo! (India), dir: Prateek Vats (WP)
The Fever (Brazil/France/Germany), dir: Maya Da-Rin (AP)
Wet Season (Singapore), dir: Anthony Chen (AP)
Summer Is The Coldest Season (China), dir: Zhou Sun (WP)
Wisdom Tooth (China), dir: Liang Ming (WP)
Single Cycle (China), dir: Zhang Qi (WP)
HIDDEN DRAGONS:
Koali & Rice (China), dir: Ye Qian (AP)
Walking In Darkness (China), dir: Tang Yongkang (AP)
Bloody Daisy (China), dir: Xu Xiangyun (WP)
Summer Of Changsha (China), dir: Zu Feng (AP)
An Insignificant Affair (China), dir: Ning Yuanyuan (WP)
A Trophy On The Sea (China), dir: Ju Anqi (WP)