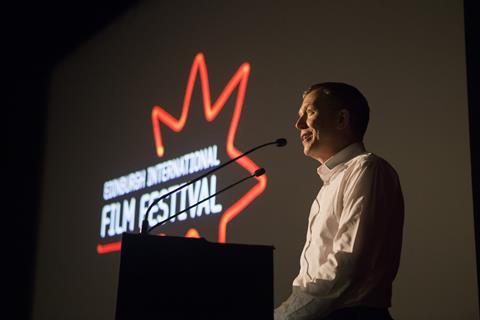 Bold new plans have been announced to turn Edinburgh's Filmhouse cinema into a six-screen Scottish national film hub akin to the EYE building in Amsterdam, HOME in Manchester, and TIFF Lightbox in Toronto.
The scheme, unveiled on Wednesday (11), will cost an estimated £50m ($65m). It is likely to take at least five years to complete and is a project on a very grand scale.
"We're confident it will happen," said Ken Hay, CEO of Scotland's Centre for the Moving Image (CMI), adding the venue will become "a temple for film" and provide Edinburgh International Film Festival with a lavish home. "Film is the major art form in this country and, in fact, across the world but it is the one art form that has very few celebratory venues left, let alone new ones being built."
The planned new Filmhouse building adjacent to the existing venue's current site has been designed by Edinburgh based Richard Murphy Architects. Hay and his colleagues will be soliciting feedback.
The first step on what is likely to be a very long road is the start of a pre-planning public consultation phase set to take place from March 11-June 3. The project, based in a city centre brownfield site, is yet to receive planning approval. Once that is in place, fundraising will begin in earnest. Hay will be looking for support from both the Scottish and UK governments.
"We are very aware that both governments would expect us to have a lot of other money on the table as well," he said. "We are going to be having discussions with both public and private funders but we haven't got a financing model in place yet."
Asked for a best-case scenario, Hay suggested "the planning process itself will take a year. We anticipate we will know by this time next year whether we have planning permission or not. We will then start the fundraising. We would anticipate it would take a couple of years to raise enough money to press the green light on the construction and it would take a couple of years to build. We are probably looking at a good five years."
The new Filmhouse will be used not only for the Edinburgh Film Festival but for other festivals the CMI works with. It will also provide space for workshops, masterclasses and meetings. The venue will remain independent. Hay discounted the idea of working with major exhibitor partners.
"One of the things we are very proud of is that we are independent. We love working with all the major chains and have nothing but respect for them but in this situation, it is very much [based] around the independence of both the operation and of the programming. That is one of the things we see as absolutely core to what we are trying to achieve long-term."
Detailed plans for the new Filmhouse venue emerged in the same week it was announced that First Stage Studios Ltd, will be running the new Scottish film and TV studio space in Bath Road, Leith, in Edinburgh.
"I think the fact they announced the film studio yesterday is brilliant," continued Hay. "It demonstrates that not just Edinburgh but Scotland is getting absolutely on to the front foot when it comes to working with the film industry and providing facilities for the film industry, both in terms of high-end production and also film culture, film education, audience development and that wider learning about film as an art form."
He also confirmed that a new artistic director for the Edinburgh Film Festival should be in place by the end of the year at the latest and said CMI director of programming Rod White will oversee the artistic programme for this year's festival (June 17-28).
The new artistic director, when finally appointed, will be "part of the senior team, working for an organisation one of whose key ambitions is to deliver this project [the new Filmhouse venue]."