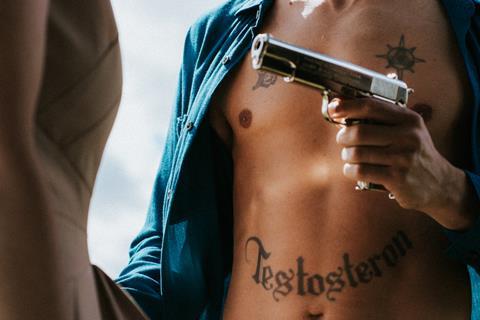 The programme for the 2021 edition of Polish Days industry event includes Lipstick On The Glass, the latest film from Polish director Kuba Czekaj.
Czekaj's film, which is currently in post-production, is participating as one of six works-in-progress, alongside nine titles in development and five completed films.
The film follows a woman who is induced to abandon her gangster husband to join a feminist sect.
It is produced by Pawel Kosun and Agnieszka Janowska for Poland's Centrala Film, and Arek Gielnik for Germany's Indi Film.
The film will be Czekaj's fourth feature; his second film Baby Bump debuted in Biennale College – Cinema at Venice 2015, going on to play SXSW in the US; while The Erlprince played at Berlin, Vilnius and Edinburgh the following year.
Polish Days 2021 will run from August 15 to 17, during the 21st New Horizons International Film Festival (August 12-22) in Wrocław.
Projects presented in previous editions of the event include Jan Komasa's Corpus Christi, which went on to be nominated for best international feature at the 2020 Academy Awards; and Magnus van Horn's Sweat, which was awarded the Cannes 2020 label before a premiere at Toronto, and has sold to Curzon for the UK and Ireland, and Mubi for the US.
Polish Days 2021 selection
Completed films
Fears dirs. Lukasz Ronduda, Lukasz Gutt, prods. Kuba Kosma, Katarzyna Sarnowska – Serce
The Getaway King dir. Mateusz Rakowicz, prods. Agnieszka Odorowicz, Andrzej Papis, Maciej Sowinski – TFP
The In-Laws dir. Kuba Michalczuk, prod. Michal Kwiecinski – Akson Studio
My Wonderful Life dir. Lukasz Grzegorzek, prod. Natalia Grzegorzek – Koskino
Other People dir. Aleksandra Terpinska, prods. Klaudia Smieja, Beata Rzezniczek, Madants
Works-in-progress
Bread And Salt dir. Damian Kocur, prods. Ewa Jastrzebska, Jerzy Kapuscinski - Munk Studio, Polish Filmmakers Association, Canal+
Broys dir. Marcin Filipowicz, prods. Ewa Jastrzebska, Jerzy Kapuscinski - Munk Studio, Polish Filmmakers Association, Canal+
Lipstick On The Glass dir. Kuba Czekaj, prods. Pawel Kosun, Agnieszka Janowska, Arek Gielnik – Centrala Film, Indi Film
Roving Woman dir. Michal Chmielewski, prods. Lena Gora, Marta Lewandowska, Anna Lodej – Friends With Benefits Studio
Imago dir. Olga Chajdas, prods. Izabela Wojcik, Violetta Kaminska, Dariusz Jablonski – Apple Film Production
Woman On The Roof dir. Anna Jadowska, prods. Maria Blicharska, Damien Mc Donald, Mimmi Spang, Anna-Maria Kantarius - Donten & Lacroix Films, Blick Productions, Garagefilm
Development
A Child Made To Order dir. Patricia Ryczko, prods. Vicky Witowska, Sylwia Witowska – Plan V
An Enemy dir. Teresa Czepiec, prod. Mikolaj Pokromski – Pokromski Studio
Doppleganger dir. Jan Holoubek, prod. Anna Wasniewska-Gill – TVN Discovery Group
First Day Of Summer dir. Piotr Szczepanski, prod. Anna Pachnicka – Anagram Film
No One's Calling dir. Kamila Tarabura, prods. Andrzej Muszynski, Renata Mecina – ATM Group
Pray For Peace, Train For War dir. Agnieszka Elbanowska, prods. Ewa Jastrzebska, Jerzy Kapuscinski - Munk Studio, Polish Filmmakers Association, Canal+
The Root Crown dir. Katarzyna Gondek, prod. Pawel Kosun – Centrala Film
She dir. Agnieszka Zwiefka, prod. Izabela Igel – Harine Films
Whack A Mole dir. Pat Howl, prods. Katarzyna Samson, Joanna Tatko - Krol dopalaczy S. A