Revered director of Katyn and The Promised Land passed away on Sunday.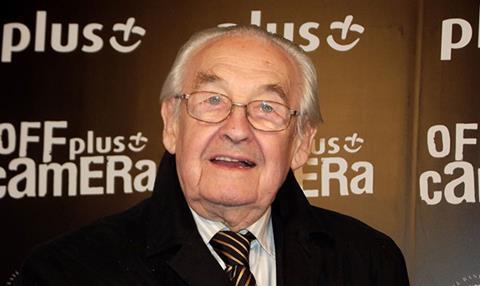 Polish cinema - and the international film community at large – are mourning the passing yesterday (Oct 9) of the Polish filmmaker Andrzej Wajda.
His career spanned more than 60 years and included such classics as Ashes And Diamonds, Innocent Sorcerers, The Wedding, Man Of Marble, and Man Of Iron. Four of his features were Oscar-nominated, and he received an honorary Academy Award in 2000.
Wajda had been a resistance fighter during the Second World War and a Fine Art student in Krakow before studying film directing at the Lodz Film School, his debut feature A Generation in 1954 being the first part of a trilogy completed by Canal (1956) and Ashes and Diamonds (1958).
The films introduced Wajda to an international audience.
In the early 1970s, he formed his own film unit, Film Studio 'X', where he worked with a group of young film-makers such as Ryszard Bugajski and Agnieska Holland, using his international status to make the realisation of politically-challenging projects possible.
Only a little more than two weeks ago, Wajda attended the Polish cinema's annual showcase in the Baltic sea port of Gdynia where the festival presented a special screening of his latest feature film Afterimage, hot on the heels of its world premiere in Toronto earlier in September.
The veteran filmmaker – who had turned 90 last March – was treated to an emotional reception before the screening of Afterimage with a number of actors and actresses from his past films coming on stage to congratulate him on his life's achievement and to share humorous anecdotes about working with the master.
In addition, the festival had featured the '40/90' exhibition, organised by the Polish Film Institute and the National Film Archive, presenting the 40 feature films Wajda had made during his film-making career.
During the festival's closing ceremony, he had received a special out of competition award for Afterimage from the Polish Filmmakers Association.
At the time, Wajda declared himself "flustered" and completely taken by surprise by this honour, although the respect, admiration and affection for one of the most eminent artists in the history of Polish cinema was clearly palpable in Gdynia's Musical Theatre that evening.
During his long career, Wajda received many distinctions recognising his life's achievements, including a César Award in 1982, followed by a European Film Award (1990), the Leone d'oro in Venice (1998), an honorary Academy Award (2000) the Eagle - Polish Film Award (2000), the Platinum Lions in Gdynia (2005), and the honorary Golden Bear at the 2006 Berlinale.
He was nominated Oscar-nominated on four occasions: for The Promised Land (1976), The Maids of Wilko (1980), Man Of Iron (1982) and Katyn (2008).
His latest feature film, Afterimage, is Poland's entry for the Foreign Language Feature Film category this year.
In addition to his work as a film director, Wajda will be remembered for outstanding theatre productions in Poland – in Gdansk, Warsaw and Krakow – and abroad as well as for working for television.
His legacy will also include the Wajda School which he founded in 2001 with Wojciech Marczewski.
Based on the concept of the 'Film Group' model, they focused on the effectiveness of the group work method and on the collaboration of generations, and offered a programme that is unique in Europe, combining education with production targeted to film professionals. More than 50 documentary and feature films, as well as 200 shorts have been produced so far, winning prizes at prestigious festivals, including the Berlinale, San Sebastian, Karlovy Vary, Hot Docs, IDFA and DOK Leipzig.
In 2011, continuing the mission of the School, Wajda and Marczewski established a film production studio - the Wajda Studio, focussing on auteur film projects.
Lech Walesa, whose life was portrayed by Wajda in the 2013 film Walesa Man Of Hope, called the late director "a great personality, a great Pole,a great patriot and a great director" while the actor Daniel Olbrychski, who appeared in 13 of Wajda's films, said that he was "a man of courage, a great authority, a teacher for the youth".
Dieter Kosslick, director of the Berlinale, added: "The film world has lost a great artist who consistently renewed the cinematic arts, even in his advanced years. A committed filmmaker, he grappled with the history of his native country and always made his stance clear. Andrzej Wajda shaped Polish cinema, and enriched the film landscape as a whole."