Céline Sciamma's Portrait Of A Lady On Fire received impressive marks on Screen's Cannes jury grid to move into second place, with the Dardenne brothers' latest film Young Ahmed landing nearer the middle of the scores.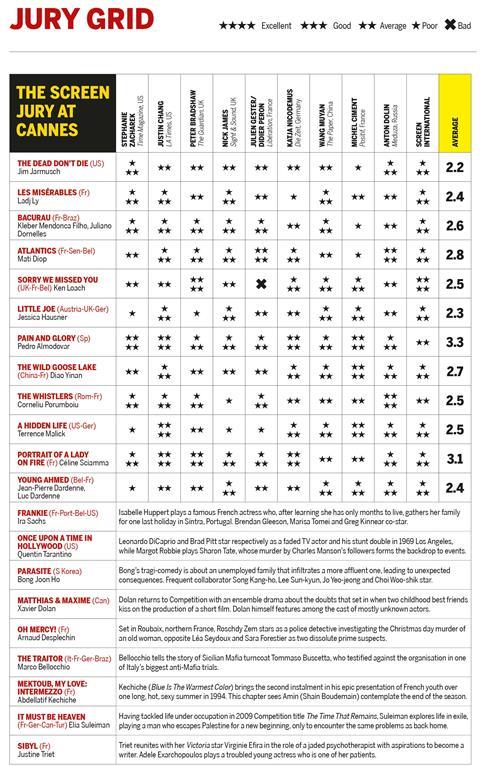 Sciamma's first Cannes Competition title took an average of 3.1 from our ten critics, surpassed only by Pedro Almodóvar's Pain And Gain so far this year. It took top mark fours (excellent) from LA Times' Justin Chang, The Guardian's Peter Bradshaw, and Die Zeit's Katja Nicodemus, with no critic awarding it lower than a two (average).
The film is a historical romantic drama set in 18th century Brittany, in which Adele Haenel plays a reluctant bride-to-be who develops a passion for a female artist commissioned to paint her portrait in her final days of freedom.
Also landing on the grid is Young Ahmed, the latest title from Cannes regulars the Dardenne brothers, which averaged out at 2.4.
Its modal score was three (good), with five critics choosing that mark; however it was dragged down somewhat by a one (poor) from Time's Stephanie Zacharek.
Young Ahmed follows a Belgian teenager who plots to kill his teacher after becoming radicallised through an extremist interpretation of the Koran.
Jean-Pierre and Luc Dardennes have previously appeared in Competition on seven occasions, starting in 1999 with Palme d'Or winner Rosetta, which scored a 2.9 on the grid.
Their record elsewhere includes a 2.5 for The Unknown Girl in 2016; a 3.1 for Two Days, One Night in 2014; a 3.1 for The Kid With A Bike in 2011; a 3.2 for Palme winner The Child in 2005; and a 3.0 for The Son in 2002.
With 12 of 21 films having been scored, no title has scored lower than a mean of 2 (average), with Jim Jarmusch's festival opener The Dead Don't Die still the lowest mark on 2.2.
Tomorrow is a big day for the Cannes Competition, with the world premiere of Quentin Tarantino's highly anticipated Once Upon A Time… In Hollywood, with Ira Sachs' Frankie also taking its spot.
When the scores come in, make sure to mark them up on your Screen jury grid poster – then share it with us at @screendaily on Twitter, Facebook and Instagram, with the grid image available to print here.