The Dardenne Brothers' latest is a taut study of a devout 13-year-old Muslim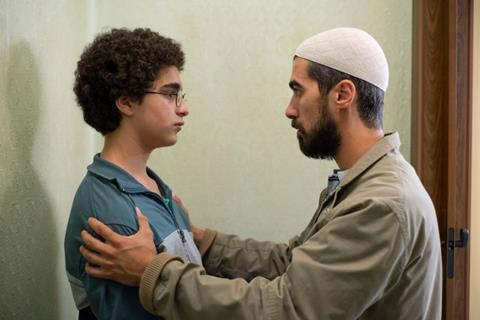 Dirs/Scr: Jean Pierre and Luc Dardenne. Belgium, France. 2019. 84mins
The sentimentality that has stolen into the Dardenne brothers recent films is swept aside in Young Ahmed (Le Jeune Ahmed). Here, they have created a compelling social realist drama focused on a teenage boy who is unyielding in his embrace of religious fanaticism. Focused and thought-provoking, it should be welcomed as a return to form after the disappointment of The Unknown Girl.
There is an urgency to The Young Ahmed, not only in the personality of the character but in the way events quickly escalate
The Dardennes have constantly won our hearts for those misunderstood or marginalised by mainstream society. They are the champions of the underdog. The challenge here is to make us at least understand the unthinkable. Ahmed (Idir Ben Addi) is a studious 13 year-old. Curly-haired, bespectacled and self-effacing, he has suddenly grown into an angry young man. Imam Youssouf (Othmane Moumen) encourages his absolute devotion to the challenge of being a true Muslim; he refuses to wear short sleeves and has become obsessed with his ablutions and prayers.
Ahmed is surrounded by family and friends who do not share his devotion. Their mere presence is an affront and has grown to feel like a conspiracy against him. He seems to despise a mother (Claire Bodson) who doesn't wear the hijab and drinks alcohol. He tells his sister that she dresses like a slut and he is in constant conflict with his well-meaning schoolteacher Ines (Myriem Akheddiou). "A true Muslim doesn't shake a woman's hand," he declares, rebuffing her latest advance.
Idir Ben Addi's poker-faced Ahmed is a threatening figure. He features give very little away. The fervent courage of his convictions means that deception seems to come easily to him. Yet, as the camera follows him around it captures an individual in a constant swirl of anxiety and uncertainty. Repeatedly told that his teacher is an apostate, he decides the strongest proof of his faith is to kill her.
Tightly edited by Tristan Meunier, there is an urgency to Young Ahmed, not only in the personality of the character but in the way events quickly escalate. How does society reach someone whom we have every right to fear? The attempt to understand Ahmed is often through his conversations with the women around him. A static camera set-up for a traditional two shot lets us absorb his encounters with his teacher, his mother, a psychologist and Louise (Victoria Bluck) the young daughter at the farm where he is sent as part of his rehabilitation. Each conversation reveals more of his state of mind but often reminds us that he is still just a boy who might yearn for the comfort of a mother's embrace, or be tempted by a young girl's kiss.
Ahmed is a complicated individual, provoking both compassion and caution. There is a thriller element to the film, but the Dardenne brothers rigorously avoid melodrama or histrionics as they let the story unfold. A Schubert piano sonata is among the music deployed as counterpoint to the on-screen drama and a closing twist of fate makes Ahmed's future unresolved but leaves the viewer plenty to mull over.
Production companies: Les Films Du Fleuve, Archipel 35
International sales: Wild Bunch ediederix@wildbunch.eu
Producers: Jean-Pierre Dardenne, Luc Dardenne, Denis Freyd
Cinematography: Benoit Dervaux
Editing: Tristan Meunier
Production design: Igor Gabriel
Main cast: Idir Ben Addi, Olivier Bonnaud, Myriem Akheddiou, Claire Bodson