Celine Sciamma tries on an all-female costume drama for Cannes Competition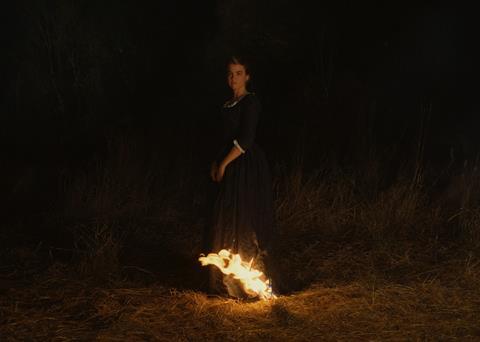 Dir. Céline Sciamma. France. 2019. 120 mins
Céline Sciamma's first foray into period drama starts out as a cautiously demure watercolour wash but gradually builds into a vivid, full-blooded oil portrait of the stolen romantic relationship between two young women. The setting is the Brittany coast, 1770. An emancipated professional portrait painter, Marianne (Noémie Merlant) has been commissioned to capture the likeness of Héloïse (Adèle Haenel). A previous painter failed to deliver because Héloïse, aware that the picture will be used to sell her as a marital prospect for a stranger she has never met in a country she has never visited, refused to pose. So Marianne must study her subject covertly, under the guise of being a paid companion. Sciamma's approach, unhurried and intimate, is similarly watchful.
Noemie Merlant and Adele Haenel have a persuasive onscreen connection which gives this affair a life of its own
Entirely female-led cinema is still enough of a novelty for this to add appeal to an already attractive package. Arthouse audiences will be intrigued to discover how Sciamma has channelled the fluid energy of her contemporary work into the more constrained environment of a costume drama. It won't hurt that this is a strikingly handsome production which will be admired on a technical level. It remains to be seen how great the overlap will be between the audiences for her younger skewed contemporary pictures and this, which seems likely to appeal to an older demographic.
Sciamma's boldest decision is to do away with the score for this picture. It's particularly brave given the key role that the soundtrack played in Girlhood and that a mutual love of music is the thing that breaks the ice between scowling, standoffish Héloïse and Marianne, whose natural confidence is knocked off-kilter by Héloïse's aggressive beauty. Instead, the quietness is filled with subtle sound design. The whisper of the sea isolates the story from the rest of the world, the crackle of the fires that burn in every room subliminally underlines the symbolic importance of flames – symbolism which is perhaps a little too heavy handed at times.
The lack of score gives the several instances of diegetic music an unexpected weight. Marianne's clanking attempt to play Vivaldi's Summer from the Four Seasons on a harpsichord foreshadows a closing scene which owes a debt to the final shot of Call Me By Your Name. But most powerful is an eerie vocal piece performed by women gathered for a night time fiesta – there's a haunting, pagan quality to this keening close harmony chant, it breaks over the film like a wave. In its wake, everything is slightly different.
The sense of isolation is crucial. The normal rules are relaxed – there's a lack of the social hierarchies which would normally divide individuals of differing class background. Not only are Héloïse and Marianne on an equal footing, so is the maid (Luana Bajrami), who joins the women for infectiously high spirited games of cards. Suspended from normal life, Héloïse encourages Marianne to pursue an honesty in her work in defiance of the prettifying conventions of the era, and Marianne helps Héloïse temporarily forget the fate that awaits her, a fate which her older sister may have taken her own life to avoid.
Not everything works. A scene in which the pair sample a narcotic herb seems oddly out of place and unnecessary. But Merlant and Haenel, colour coded smouldering red and forest green gowns respectively, have a persuasive onscreen connection which gives this affair a life of its own – one which will continue long after they part.
Production companies: Lilies Films
International sales: Mk2
Producers: Bénédicte Couvreur
Screenplay: Céline Sciamma
Editing: Julien Lacheray
Cinematography: Claire Mathon
Production design: Thomas Grezaud
Music: Jean-Baptiste de Laubier, Arthur Simonini
Main cast: Noémie Merlant, Adèle Haenel, Luana Bajrami, Valeria Golino