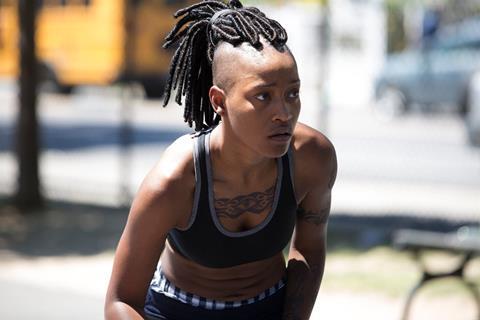 Los Angeles-based Premiere Entertainment Group (PEG) is kicking off talks with Cannes buyers this week on crime drama Pimp starring Keke Palmer and featuring Lee Daniels as executive producer.
Haley Ramm, Vanessa Morgan, Aunjanue Ellis, Edi Gathegi, and DMX round out the key cast on the Bronx-set urban love story about a female pimp who learned her trade from her father and struggles to survive after he dies, forced to look after her girlfriend and prostitute mother.
Christine Crokos makes her feature directorial debut from her original screenplay. Alexis Varouxakis produces for 1821 Pictures and Adrenaline Entertainment, alongside Victoria Bousis and Crokos.
Vertical Entertainment distributes Pimp in select US theatres and across digital platforms.
Premiere Entertainment's Cannes sales slate include thriller The Amaranth starring Paul Thomas Anderson regular Melora Walters and Jeffrey DeMunn as a couple who move to an isolated and luxurious retirement community where the woman suspects sinister forces are affecting her and her husband.
Albert Chi, who co-produced Anderson's The Master and Inherent Vice, makes his directorial debut. Deanna Barillari and Mollye Asher produced, and screenwriter Eileen Shields is executive producer. Christopher Denham, Shiva Negar, and Susan Sullivan round out the key cast.
Drama Rich Kids, winner of the Best U.S. Feature award at the HBO New York Latino Film Festival, follows a group of troubled teens from a low-income community who break into a mansion and spend the day pretending to be rich until they are caught and chased by the police.
Newcomers Gerardo M. Velasquez, Michelle Magallon, Justin Rodriguez, Ulysses Montoya, Naomë Antoinette, and Alessandra Manon star.
Laura Somers directed and co-wrote the screenplay with David Saldaña. Somers also produces alongside Eddie Rodriguez.
Premiere Entertainment CEO and president Elias Axume and vice-president of acquisitions Carlos Rincon negotiated the deals with the producers.
The sales roster includes recently wrapped action films Seized starring Scott Adkins and Mario Van Peebles, Legacy starring Luke Goss, Legionnaire's Trail featuring Mickey Rourke, as well as completed films Hospitality with Emmanuelle Chriqui, American Dreamer starring Jim Gaffigan, and Human Affairs with David Harbour from Hellboy and Stranger Things.