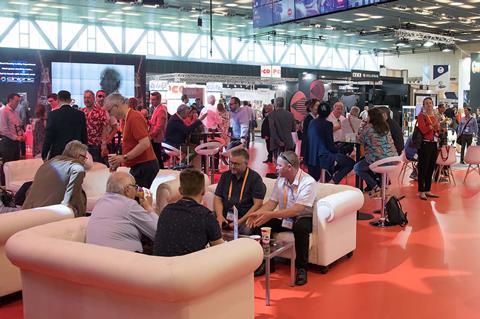 Premium cinema experiences hold the key to the continued recovery of the international box office, according to senior exhibition executives on a panel held on the first day of CineEurope (October 4-7) in Barcelona.
"People are searching out quality and a premium experience," said Mark Way, managing director at Odeon Cinemas and president of AMC Europe, on the CineEurope session titled '2021: A Different Cinema Landscape?'.
Way cited AMC-owned Odeon's investment in its premium Luxe brand, with 47 of its 340 European venues now converted to Luxe sites.
"These are the parts of the business that are recovering fastest; people are coming back to premium experiences, that's what they want," Way continued.
"There's a lot of competition out there for the pound in people's pockets, whether it's bars, restaurants – people are fighting hard to attract them. [For the exhibition industry], "it's the films but it's about the experience that we as exhibitors offer as well, and that premium experience is critical."
Way's comments were seconded by Tim Richards, CEO at Vue International and chair of the British Film Institute, who said his cinema chain had used the downtime of successive lockdowns in 2020 and 2021 to improve facilities.
"Because of our continued belief in the business, we opened up new cinemas, we refurbished cinemas," said Richards. He described recliner seats, which are found in many premium cinema locations, as "one of the few game-changers" in the last 30 years of the industry, comparing the effect they have had to the proliferation of stadium seating in cinemas from the 1990s onwards.
"When you sit in a recliner seat, you tell your friends, you tell your family, and you go more often," said Richards. "They're expensive, and you lose seats [due to the size], but it's worth it."
The Vue executive also highlighted digital surround sound and laser projectors as technical improvements made at many Vue locations. The investment "is not a cheap one, particularly as we're all a little wounded after the last 18 months," said Richards, "but that is the focus."
Both Richards and Way noted that online booking has increased substantially since the pandemic. "People are expecting that seamless approach," noted Way, who flagged that Odeon has now opened online food and beverage ordering in the UK.
Before joining Odeon, Way was senior vice president of global operations finance at Hilton Worldwide, the leading hotel chain where he worked for 17 years. He believes the film industry has much to learn from the hospitality sector.
"We're making progress but we've got a very long way to go in terms of differential pricing for the different propositions we have, at different times of the day, in different seats in an auditorium," said Way.
Greater flexibility on pricing allowed for lower prices for people looking for that but also "premium propositions", he argued. "Getting the pricing strategy right is critical for all of us and can benefit everybody going forward, but will also drive attendance as well as driving the price we get and the yield overall."
'Eventisation' and education
The panel also included three leading studio executives: Studiocanal CEO Anna Marsh, Andrew Cripps, president, international theatrical distribution at Warner Bros. Pictures, and Paul Higginson, evp, EMEA at Universal Pictures International.
They touched on the topic of a prior panel – of the increase in local films in European territories in the pandemic period. For Marsh, "eventisation" holds the key.
"It's quite a buzzword at the moment," said the Studiocanal exec, who later hosted a presentation of the European studio's upcoming slate. "We don't have the biggest budgets for splashy premieres, but if we're bringing those premieres locally, we're bringing the talent from town to town, cinema to cinema, we're really creating an event."
While Richards said that the pandemic period had left the industry "knocked down and bloody", the panelists refuted the notion that young people have lost the love for cinemagoing in this time.
"Young people are in love with movies – it's just about where they see them," said Higginson. "They have to want to see what you're offering, and it has to be offered at a price that is going to work for them."
The cinemagoing experience must be defined as an essential one, he believes. "Young people have no problem spending an awful lot of money on their mobile phones – for them, that's an imperative. It's how you communicate to them that what you're offering them is worth having, and then keeping them there."
For Marsh, education about what cinema is would help maintain the theatrical experience.
"As a film lover, I spend a lot of time talking to my kids about what I do, about what a movie is," she said. "It's about families accompanying young children, teenagers, to enable them to explore the beauty of a movie. Its philosophical powers; what it can teach us about the society of today and the world of yesterday. Why don't we integrate that more into the school system?"
Parents should tell their children that "it's OK to go to a movie, it's probably going to be better for your brain than playing some video game," Marsh said. "Let's participate in that and be responsible for educating kids through the power of movies."
CineEurope continues today (Tuesday, October 5) with studio presentations from Universal Pictures International and Warner Bros. Pictures International.