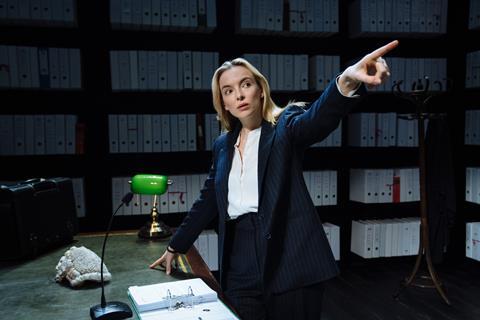 National Theatre Live's release of Prima Facie, Suzie Miller's play starring Jodie Comer, was the highest-grossing title at UK-Ireland cinemas yesterday (July 22), taking £1.4m with 76 sites still to report.
That figure made it the highest-grossing event cinema release since cinemas closed at the start of the Covid pandemic in March 2020, and the first to cross the £1m mark in this time. NTLive is estimating the final Thursday total to be close to £1.5m once all sites have reported.
The film played in 662 locations on Thursday, bringing in a single-day location average of £2,346.
NTLive has booked 350 sites for encores across this weekend and into next week, including regular matinee and evening screenings.
It has a total of 2,000 screenings in 730 cinemas across a 12-week cinema run, continuing until October.
Power of one
Prima Facie's strong start draws comparisons with another NTLive release: Phoebe Waller-Bridge's Fleabag – NT Live 2019, which took just shy of £2m across its opening three days, and grossed £4.4m total from a four-month run across the latter third of 2019.
Both releases are one-woman plays starring actresses who first found acclaim in popular UK TV shows: Fleabag for Waller-Bridge, and Killing Eve – for which Waller-Bridge wrote the first season – for Comer.
Comer and Waller-Bridge were both previously named Screen UK-Ireland Stars of Tomorrow: Comer in 2016 as an actor, and Waller-Bridge in 2014 as an actor, writer and theatre producer.
Directed by Justin Martin, Prima Facie centres on a brilliant young barrister of working-class origins, who is forced to confront the divergence of patriarchal law, burden of proof and morals.
The Australian play debuted in Sydney in 2019; it made its West End premiere in London in April 2022 at the Harold Pinter Theatre, running until last month.
Only two other event cinema releases have crossed the £1m mark in the UK since the start of 2020, both pre-pandemic: Andre Rieu: 70 Years Young, with £2m in January 2020, and Kinky Boots: The Musical with £1.5m in February 2020.