EXCLUSIVE: Spanish director-producer to co-produce fantasy tale; first image from production.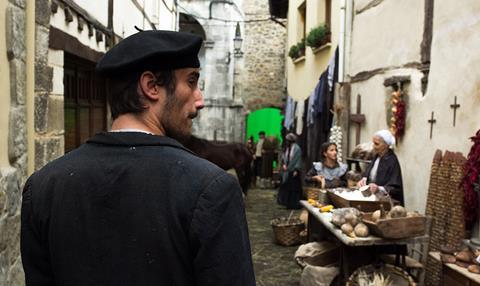 Spanish director-producer Alex de la Iglesia (The Day Of The Beast), whose comedy-thriller The Bar plays Out Of Competition at the Berlinale, has boarded fantasy tale Errementari: The Blacksmith And The Devil.
Currently in production, the Basque-language movie - pitched by co-producers Kinoskopik Film and The Project as being in the vein of Pan's Labyrinth – is inspired by popular Basque folk tale Patxi Errementaria about a notorious Blacksmith who is so cruel that he is feared even by the Devil.
De la Iglesia, currently in post-production on the Spanish-language adaptation of hit Italian comedy Perfect Strangers, will co-produce under his Pokeepsie Films banner.
The film marks the feature debut of writer-director Paul Urkijo, with whom Basque outfit Kinoskopik has collaborated on a number of shorts.
Screen can also reveal the first look image from the production, whose DoP Gorka Gómez Andreu last week picked up the Spotlight Award 2017 at the American Society Of Cinematographers Awards.
European co-production collective The Project said: "Errementari is an original and visually ambitious feature with an international appeal due to its universal themes. We are happy Alex de la Iglesia and his team at Pokeepsie decided to join in and give the best support to the film. It is always fantastic when an established director is encouraging and supporting new promising talents."
Director Urkijo added: "This film is very dear to me because it is a story deeply rooted to my Basque culture and heritage, but also to my childhood. And when I was a kid, I read for the first time the Basque folk tale called Patxi Errementari, about a lonely blacksmith in the woods, crueler than the devil himself. It was my favorite tale.
"I developed the characters over a long period to make a movie that speaks about 'hell' at a graphic, literal level - a disturbing, Dante esque place - but also as a psychological state that is clearly active in the minds of each character."