Timur Bekmambetov, whose Profile premiered in the Berlin Film Festival's Panorama strand last week, is preparing a slate of new "Screen Life" movies.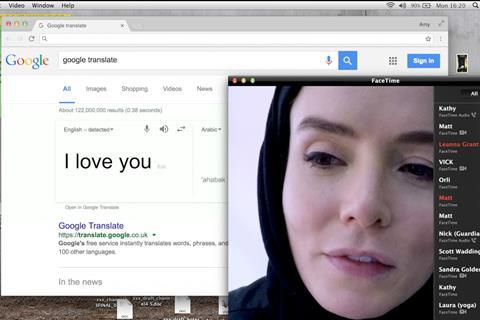 The director-producer is plotting to release up to six over roughly the 12 months, including adaptations of Cyrano De Bergerac and Romeo And Juliet, and an online variation on a Hangover-style comedy.
The filmmaker behind such big budget affairs as Wanted and Abraham Lincoln: Vampire Hunter and the recent remake of Ben-Hur now sees the computer as the new frontier for filmmaking.
"Obviously, we live on screens…the most important and dramatic events are happening on screen," the Russian-Kazakh director told Screen.
"This 'Screen Life' is not a genre. It is a language," Bekmambetov continued. He is working with Cyprus-based financiers Dossor on the slate.
'Screen Life' films unfold on computer screens. Bekmambetov is in Berlin with the latest in the cycle, Profile, in which a female British journalist tries to snare an Isis fighter online, posing as a potential Jihadi bride.
The first in the series, Unfriended, was released successfully by Universal in 2014, making $64 million on a $1 million budget. This year, Sony will release Search, which it acquired for a reported $5m in Sundance last month. Bekmambetov is already producing several more titles.
Roman Karimov has directed Russian-language comedy Birthday Party, in the vein of Hangover. "instead of Las Vegas, there is the internet," says Bekmambetov.
Bekmambetov (who will be working alongside Profile producer Olga Kharina on the films) is hatching a new version of Romeo And Juliet for the social media age. The idea is that the action from the Shakespeare classic plays out on mobile phone screens belonging to US high school students.
Stephen Susco's Unfriended: Game Night, which Bekmambetov has produced alongside Jason Blum, will premiere at SXSW, where Profile will also be screening.
Bekmambetov is planning a competition to attract young filmmakers to make 'Screen Life' style movies, which he will produce on their behalf.
He anticipates that the films will still be cast-driven to an extent. "Stars are important," he said. "There is no way that a big actor would play in a 'Screen Life' movie two years ago but now they will."
Bekmambetov also predicted that "very established filmmakers" will understand the possibilities that 'Screen Life' offers for making more "personal movies. You don't need thousand people crews. You just need good stories."
The director admitted he had encountered widespread scepticism when he started the 'Screen Life' concept.
"There were no tools when we began this process. You don't need cameras but what you need is recorders. You need to record the character and the screen simultaneously. Interaction with the screen is the core of these projects."
The films may be made on computer screens but Bekmambetov is still pushing for them all to get theatrical releases - and "to put the small screen on the big screen." However, he is also planning to release "clickable content" which will allow non-theatrical audiences to consume the films in a different way.
"Sundance was a big success and every new release helps us to release more 'Screen Life' movies. We are looking for the right partners to help us make an event," Bekmambetov said of the distribution strategy for the titles. He hasn't discounted working with Netflix but is keen to "make a statement" with the early films by ensuring they're seen on the big screen.