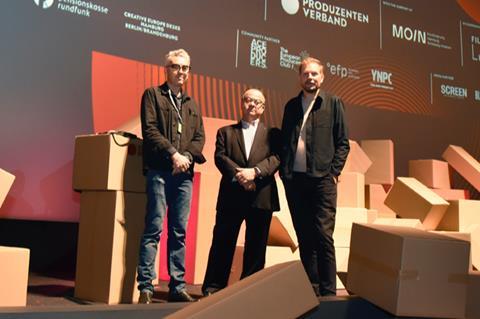 "Everything solid is quickly becoming fluid" was the conclusion of attendees at the second edition of the Explorer Konferenz held on the penultimate day of Filmfest Hamburg (September 30-October 9). The event analyses challenges and opportunities for producers and funding bodies created by the current disruption in the film industry.
International industry figures such as Alexandra Lebret of the European Producers Club and Netherlands Film Fund CEO Bero Beyer were among the speakers.
Tomas Eskilsson, head of strategy and public policy at the Swedish regional film fund Film i Väst, unveiled some initial findings from a pan-European study currently being prepared titled 'Public Finance at the Crossroads' which involved more than 700 interviews as well as over 60 seminars with around 2,000 professionals discussing public film finance.
Eskilsson said that the biggest respondents to the study were producers. "Nearly all of them we talked to… strongly believed in the importance of underlying rights," he said. "But on the other hand, can you say 'no' to the opportunities that can be given by working for global players where you formally and legally become a production service?"
He added: "Recently, the head of drama at [Swedish television] SVT said that public service is now a very small fish in a very big pond and three years ago we were an extremely big fish in a small pond. How should they survive because they can clearly see fragmentised financing is less attractive. One of the attractions of the new world is the possibility that you get a fast answer, you get all the money you need, you don't have to wait three-four years."
Eskilsson said 100% of respondents thought it was important to "secure the old world and for it to continue to exist and present those kinds of opportunities to make content with a strong cultural reference and make content for cinemas."
The survey had shown a desire for public bodies to work much faster and with less bureaucracy. "A substantial majority of the production companies say that more money should be given to much fewer projects because that is the only way public bodies can continue to be attractive in the new world," adds Eskilsson.
Moreover, some respondents suggested that no project which is totally owned or controlled by a streamer should receive any form of public money, including incentives.
The final text of the study is likely to launch during the Berlinale next February.
Zentropa's Louise Vesth closed this year's Explorer Konferenz with a session on the future of arthouse cinema.
"Someone once told me: the best talents travel to America, the second best make series, and the last ones are making arthouse movies in the public funding system. We need to restructure the pyramid," she said.
The Explorer Konferenz was organised by the German Producers Association with the support of MOIN Filmförderung Hamburg Schleswig-Holstein and in cooperation with Filmfest Hamburg.