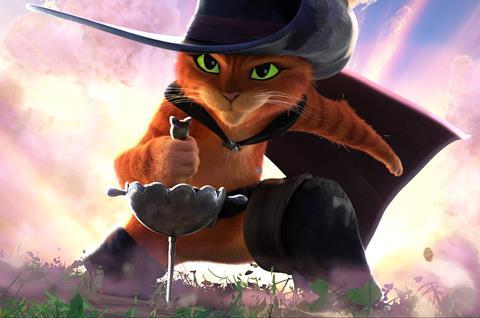 World box office December 9-11
| | | | | | | |
| --- | --- | --- | --- | --- | --- | --- |
| Rank | Film (distributor) | 3-day (world) | Cume (world) | 3-day (int'l) | Cume (int'l) | Territories |
| 1. | Black Panther: Wakanda Forever (Disney) | $22.9m | $767.8m | $11.8m | $358m | 51 |
| 2. | Violent Night (Universal) | $13.3m | $41.8m | $4.6m | $15.1m | 73 |
| 3. | Puss In Boots: The Last Wish | $8.9m | $8.9m | $8.9m | $8.9m | 24 |
| 4. | Strange World (Disney) | $7.3m | $53.5m | $3.7m | $23m | 44 |
| 5. | The Menu (Disney) | $6.3m | $57.7m | $3.6m | $28.7m | 52 |
| 6. | One Piece Film Red (various) | $4.7m | $206.7m | $4.7m | $193.4m | 23 |
| 7. | Suzume (various) | $4.3m | $63m | $4.3m | $63m | 1 |
| 8. | The Owl (various) | $4.2m | $17m | $4.2m | $17m | 1 |
| 9. | Black Adam (Warner Bros) | $2.8m | $388.9m | $1.5m | $222m | 74 |
| 10. | Roald Dahl's Matilda The Musical (Netflix) | $2.5m | $13m | $2.5m | $13m | 2 |
Credit: Comscore, click top right to expand. All figures are estimates.
'Puss In Boots' sequel lands in early international markets
UPDATE: The weekend before the release of Disney's Avatar: The Way Of Water saw a becalmed global box office, with December 9-11 takings down on the equivalent session a year ago (when the market benefited from the likes of Encanto, West Side Story and House Of Gucci).
The only new release landing in the global top 10 chart is DreamWorks Animation's Puss In Boots: The Last Wish, arriving in 24 early international markets courtesy of Universal. The sequel grossed a confirmed $8.5m in its opening session – good enough for third place in the chart.
Top market was France, with a chart-topping five-day $3.1m. France's box office was impacted by World Cup football on Sunday evening, when France beat England to reach the semi-final of the competition, and overall weekend takings were 47% down from the equivalent session last year and 50% below average. However, the impact of an evening game on a family film should not have been severe.
Italy opened on just over $2m – topping the market, and with more than twice the takings of the film in second place.
Puss In Boots: The Last Wish is not opening up against Avatar: The Way Of Water in any major new markets this coming weekend. Instead, Universal is waiting a week before introducing the film to North America and Spain (both December 21), Germany and Mexico (both December 22) and China (December 23). Australia (December 26), South Korea (January 4) and Brazil (January 5) all follow, with later releases planned for UK/Ireland and Japan.
The original Puss In Boots film, a spinoff of the Shrek franchise, grossed $555m in 2011 – including a powerful $406m for international markets.
'Black Panther: Wakanda Forever' stays top in fifth weekend of play
Disney's Black Panther: Wakanda Forever has topped the North America, international and global box office for a fifth weekend in a row, adding an estimated $22.9m for the latest session.
Totals so far are $409.8m in North America, $358.0m for international, combining for $767.8m worldwide.
With no major new releases in North America the week before Avatar: The Way Of Water, and in fact the highest new entry in the domestic chart coming from The Whale released into just six cinemas (grossing an estimated $360,000), Wakanda Forever faced no meaningful fresh competition. Takings for the film in North America fell a slim 37%.
In international markets, the Marvel film dropped 43%. UK/Ireland leads international territories on the film with a $36.5m cumulative total, ahead of Mexico ($34.1m) and France ($28.9m).
In the global ranking for 2022, Wakanda Forever overtook Thor: Love And Thunder at the weekend to reach sixth place in the annual chart. It will imminently overtake The Batman ($770.8m) for fifth place for the year, but is unlikely to go higher. The top four for the year so far are Top Gun: Maverick, Doctor Strange In The Multiverse Of Madness, Jurassic World Dominion and Minions: The Rise Of Gru.
Wakanda Forever has so far reached 57% of the $1.35bn lifetime total achieved by the original Black Panther. That film was boosted by $124m for China and Russia, where the sequel is not set to play.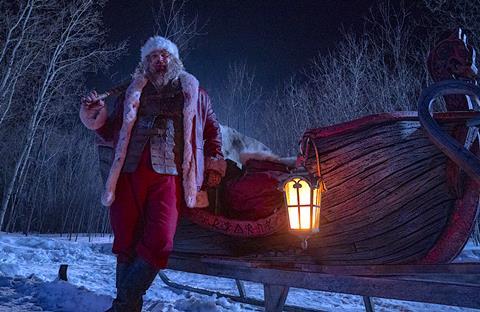 'Violent Night' nabs $13m in second session
UPDATE: Universal's festive action comedy Violent Night achieved a decent hold in its second weekend of play, falling 35% in North America and 38% in international holdover markets. The film is in second place globally, adding $13.9m globally for the weekend ending December 11, which brings the total to $42.5m.
In cumulative totals, UK/Ireland leads among international territories with $2.4m, ahead of Mexico ($1.3m) and then Australia and France (both just over $1m) and Germany on $990,000.
David Harbour stars as Santa Claus in the R-rated crime comedy about a gang of mercenaries targeting a wealthy family on Christmas Eve. The sole remaining key market is Japan, which releases February 3.
'Strange World' enjoys decent hold
It's a marathon, not a sprint – so might Disney have cautioned after its latest animated feature Strange World landed with a disappointing opening two weeks ago.
And the film's $53.5m global total is certainly not where the studio would have wanted to be after 17 days of play.
On the upside, Strange World dropped a mild 29% in North America at the weekend, and 36% in international markets (where it faced competition from Puss In Boots: The Last Wish in 24 territories). The film ranks fourth in the global weekend chart.
If Disney can hold on to screens going into the upcoming Christmas school holiday, there should be plenty more life in the title.
Spain leads the way for Strange World among international territories with a $2.3m total, ahead of UK/Ireland ($2.2m) and Mexico ($1.7m), with Germany, Italy and Australia all tied with $1.4m.
Also for Disney, Searchlight Pictures' The Menu is just one place below Strange World in the global weekend chart, thanks to an estimated $6.3m in its fourth weekend of play. The horror-tinged dark comedy thriller has steadily amassed a decent global tally of $57.7m.
Top international markets for The Menu – which has a production budget reported at $30m – are UK/Ireland ($3.6m), Germany ($2.2m), Australia ($2.1m), Italy ($2.0m) and France ($1.8m).